Case Study in Flexible Working Frank Russell Company Reading
Case study in flexible working frank russell company ielts reading passage.
Real IELTS Exam Question, Reported On:
Reading Passage 3
You should spend about 20 minutes on Questions 27-40, which are based on Reading Passage 3 below.
Case Study in Flexible Working: Frank Russell Company
A. Two phrases that Frank Russell Company uses to identify itself also suggest why flexible work options are a perfect fit for this American financial services firm. 'The sun never sets in Russell' means this 24-hour, multi-country organizations' flexible work hours are essential to conducting its business. 'Employees first, clients second' expresses the bottom line worth that management sees in employee satisfaction and creating an excellent work environment that includes opportunities to work from home. Telework, (i.e. working away from the traditional office) compressed workweeks and flexitime serve Russell both as strategic business tools and valued employee benefits. ' Of we have happy staff first, we will have happy client,' says Mike Phillips, the company's chief executive.
B. Flexible work options are offered in all departments, but the level and type of use vary widely among the 970 employees based at the company's headquaters in Tacoma, Washington State. In the early 1990s, several work groups pioneered various forms of flexible working, including telework. As the programs spread, management discovered one size does not fit all. Rather than attempt to cover every possibility, Russell now provides general guidelines under which departments customize plans to accommodate individuals' personal circumstances.
C. Implementing telework becomes less of a leap when a company's staff and clients are already scattered around the world. Pam Johnson, Manager of International Assignments, works in Tacoma but reports to a supervisor based in London. She is responsible for transfers of staff from one country to another, including negotiating the terms, shipping belongings and obtaining work permits. She works from home several times a month. Johnson says, 'I take homework that involves reading, writing, creating spreadsheets and answer emails.' Johnson says she is a more loyal employee because of the combination of benefits, flexibility and trust her employer offers. 'I've been here 11 years. Once in a while I wonder if I should look elsewhere, but the opportunity to flex my hours and work at home are part of the formula that always ends up on the Russell side.'
D. Email and technology such as remote network access not only transformed the office environment and the communication abilities between branch offices, they supported the growth of telework. Mike Phillips is as reliant on email and remote access as anyone, regardless of whether he is working in Singapore, Tacoma or from home. 'Email is our primary means of communication,' Phillips says. 'I can get up two hours early Singapore and respond to 20 emails from associates around the world or send a company-wide memo from home.'
E. The ability to vary start times or work the longer days of a compressed workweek are a way of doing business at Russell. An earlier start or a longer day increases telephone communication with international staff. In addition, since the New York Exchange opens at 9 a.m, traders on the West Coast need to start by 6 a.m local time. Another group, which provides desktop computer support, finds four 10-hour days make it easier to accomplish some tasks before or after employees need to use their computers.
F. The larger consulting department offers compressed workweeks to administrative staff. Administrative Assistant Jean Boelk works different proportions of alternate weeks in order to receive one extra day off every other week. She is part of team of four administrative staff who jointly support a work group of four executives. People are more willing to help each other because we're dependent on each other on our days off, Boelk says. Increasing the hours of coverage, plus the idea of cross-training and shared work, results in less overtime. So long as coverage is adequate, staff can change days off from one pay period to the next.
G. What motivates teleworkers is usually a combination of work and personal needs. Senior Technical Analyst Scott Boyd, who is in the Computer Operation section, works at home twice a month. Boyd's job involves responding to telephone requests, and in the office it's hard to work longer than 10 minutes without getting interrupted by the phone. It's an incredible relief to be so productive for one day at home,' he says.
H. A number of managers also find that working at home improves their overall performance. Sales and Marketing Services Manager Tricia O'Connell works at home approximately two days a month. She gives staff her home telephone number and advance notice of her plans, then checks voice mail every half hour and email every hour from home. In addition, she schedules weekly meetings in her office with each of eight members of her team to discuss challenges and encourage top performance. 'This means I am more able to focus on staff when it counts,' she says.
I. In the end, management asks two questions when making decisions about work option requests: 1) Will it improve overall employee satisfaction or job performance? and 2) Will it hurt performance of duties in some way that it not acceptable or is not offset by other improvements? For Frank Russell Company, the answers these questions show that flexible working is highly satisfactory for business.
Questions 27 – 34 Reading Passage 3 has nine paragraphs, A-I.
Choose the correct heading for paragraphs A-D and F-I from the list of headings below. Write the correct number, i-xi, in boxes 27-34 on your answer sheet.
List of Headings
I    Flexible working meets differing business needs ii   The disadvantages of flexible working iii The process of organising flexible working has changed iv  Involving clients in deciding how best to serve them v   Technical developments have facilitated flexible working vi  The cost/benefit analysis of flexible working vii Flexible working increases co-operation among staff ix  Flexible working encourages commitment to the company x   The workforce is the company's top priority xi  It's easier to get on with the work at home
Example              Answer Paragraph  E            i
27 . Paragraph A 28 . Paragraph B 29 . Paragraph C 30 . Paragraph D 31 . Paragraph F 32 . Paragraph G 33 . Paragraph H 34 . Paragraph I
Questions 35-37 Look at the following descriptions (Questions 35-37) and the list of staff below. Match each description with the correct person, A-E. Write the correct letter. A-E in boxes 35-37 on your answer sheet.
List of Staff
A Mike Phillips B Pam Johnson C Jean Boelk D Scott Boyd E Tricia O'Connell
35. provides contact details when working out of the office 36. is convinced that staff feelings have an impact on company 37. performance has responsibilities which are shared with certain colleagues
Questions 38-40 Complete the sentence below. Choose ONE WORD ONLY from the passage for each answer. Write your answer in boxes 38-40 on your answer sheet.
38. The Frank Russell Company aims to ensure that staff gain a sense of ___________ from their work. 39. Mike Phillip mostly uses ___________ to contact staff. 40. In the consulting department flexible working reduces the amount of ___________ done by staff.
Case Study in Flexible Working Frank Russell IELTS Reading Answers
Practice with Expert IELTS Tutors Online
Apply Code "IELTSXPRESS20" To Get 20% off on IELTS Mock Test
Reading Passage 3 Case Study in Flexible Working Frank Russell
27. x 28. iii 29. ix 30. v 31. vii 32. xi 33. viii 34. vi 35. E 36. D 37. C 38. SATISFACTION 39. EMAIL 40. OVERTIME
Also Check:  Ahead of Its Time IELTS Reading Passage with Answers
Oh hi there! It's nice to meet you.
Sign up to receive awesome content in your inbox, every week.
We promise not to spam you or share your Data. 🙂
Check your inbox or spam folder to confirm your subscription.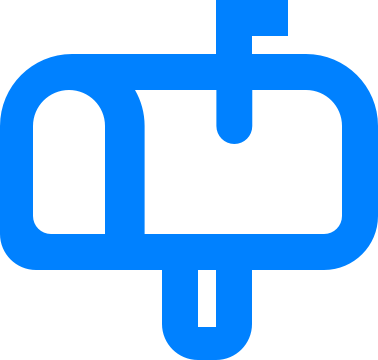 Oh Hi there! It's nice to meet you.
We promise not to Spam or Share your Data. 🙂
Facebook Messenger
Pinterest 1
Related Posts
Recent IELTS Exam 2 March 2023 India Question Answers
Recent IELTS Exam 25 February 2023 India Question Answers
Recent IELTS Exam 16 February 2023 India Question Answers
Leave a comment cancel reply.
Your email address will not be published. Required fields are marked *
Yes, add me to your mailing list
Start typing and press enter to search
Full Writing Review
General Writing Task
Writing Task 1
Writing Task 2
Writing Exercises
Writing Sample
Writing vocabulary
Intro Question
Speaking Part 1
Speaking Part 2
Speaking Part 2- Audio
Speaking Part 3
IELTS Books
Practice Test
Recent Exam
IELTS Essays
IELTS Ideas
IELTS Reading Practice 34: A CASE STUDY
You should spend about  20 minutes  on  Questions 1-13  which are bused on  Reading Passage 3 6 below :
IMPLEMENTING THE CYCLE OF SUCCESS: A CASE STUDY
Within Australia, Australian Hotels Inc (AHI) operates nine hotels and employs over 2000 permanent full-time staff, 300 permanent part-time employees and 100 casual staff. One of its latest ventures, the Sydney Airport hotel (SAH), opened in March 1995. The hotel is the closest to Sydney Airport and is designed to provide the best available accommodation, food and beverage and meeting facilities in Sydney's southern suburbs. Similar to many international hotel chains, however, AHI has experienced difficulties in Australia in providing long-term profits for hotel owners, as a result of the country's high labour-cost structure. In order to develop an economically viable hotel organisation model, AHI decided to implement some new policies and practices at SAH.
The first of the initiatives was an organisational structure with only three levels of management – compared to the traditional seven. Partly as a result of this change, there are 25 per cent fewer management positions, enabling a significant saving. This change also has other implications. Communication, both up and down the organisation, has greatly improved. Decision-making has been forced down in many cases to front-line employees. As a result, guest requests are usually met without reference to a supervisor, improving both customer and employee satisfaction.
The hotel also recognised that it would need a different approach to selecting employees who would fit in with its new policies. In its advertisements, the hotel stated a preference for people with some 'service' experience in order to minimize traditional work practices being introduced into the hotel. Over 7000 applicants filled in application forms for the 120 jobs initially offered at SAH. The balance of the positions at the hotel (30 management and 40 shift leader positions) were predominantly filled by transfers from other AHI properties.
A series of tests and interviews were conducted with potential employees, which eventually left 280 applicants competing for the 120 advertised positions. After the final interview, potential recruits were divided into three categories. Category A was for applicants exhibiting strong leadership qualities, Category C was for applicants perceived to be followers, and Category B was for applicants with both leader and follower qualities. Department heads and shift leaders then composed prospective teams using a combination of people from all three categories. Once suitable teams were formed, offers of employment were made to team members.
Another major initiative by SAH was to adopt a totally multi-skilled workforce. Although there may be some limitations with highly technical jobs such as cooking or maintenance, wherever possible, employees at SAH are able to work in a wide variety of positions. A multi-skilled workforce provides far greater management flexibility during peak and quiet times to transfer employees to needed positions. For example, when office staff are away on holidays during quiet periods of the year, employees in either food or beverage or housekeeping departments can temporarily The most crucial way, however, of improving the labour cost structure at SAH was to find better, more productive ways of providing customer service. SAH management concluded this would first require a process of 'benchmarking'. The prime objective of the benchmarking process was to compare a range of service delivery processes across a range of criteria using teams made up of employees from different departments within the hotel which interacted with each other. This process resulted in performance measures that greatly enhanced SAH's ability to improve productivity and quality.
The front office team discovered through this project that a high proportion of AHI Club member reservations were incomplete. As a result, the service provided to these guests was below the standard promised to them as part of their membership agreement. Reducing the number of incomplete reservations greatly improved guest perceptions of service.
In addition, a program modeled on an earlier project called 'Take Charge' was implemented. Essentially, Take Charge provides an effective feedback loop from both customers and employees. Customer comments, both positive and negative, are recorded by staff. These are collated regularly to identify opportunities for improvement. Just as importantly, employees are requested to note down their own suggestions for improvement. (AHI has set an expectation that employees will submit at least three suggestions for every one they receive from a customer.) Employee feedback is reviewed daily and suggestions are implemented within 48 hours, if possible, or a valid reason is given for non-implementation. If suggestions require analysis or data collection, the Take Charge team has 30 days in which to address the issue and come up with recommendations.
Although quantitative evidence of AHI's initiatives at SAH are limited at present, anecdotal evidence clearly suggests that these practices are working. Indeed AHI is progressively rolling out these initiatives in other hotels in Australia, whilst numerous overseas visitors have come to see how the program works.
[ This article has been adapted and condensed from the article by R. Carter (1996), 'Implementing the cycle of success: A case study of the Sheraton Pacific Division', Asia Pacific Journal of Human Resources, 34(3): 111-23. Names and other details have been changed and report findings may have been given a different emphasis from the original. We are grateful to the author and Asia Pacific Journal of Human Resources for allowing us to  use the material in this way.] 
Questions 1-5
Choose the appropriate  letters A-D  and write them in  boxes 1-5  on your answer sheet.
1.  The high costs of running AHI's hotels are related to their …….
A.  management.
D.  policies.
2.  SAH's new organisational structure requires …….
A.  75% of the old management positions.
B.  25% of the old management positions.
C.  25% more management positions.
D.  5% fewer management positions.
3.  The SAH's approach to organisational structure required changing practices in …….
A.  industrial relations.
B.  firing staff.
C.  hiring staff.
D.  marketing.
4.  The total number of jobs advertised at the SAH was ……..
5.  Categories A, B and C were used to select……..
A.  front office staff.
B.  new teams.
C.  department heads.
D.  new managers.
Questions 6-13
Complete the following summary of the last four paragraphs of  Reading Passage 36  using O NE OR TWO WORDS  from the Reading Passage for each answer.
Write your answers in  boxes 6-13  on your answer sheet.
WHAT THEY DID AT SAH
Teams of employees were selected from different hotel departments to participate in a . ….. (6) …….  exercise. The information collected was used to compare  …… (7) ……  processes which, in turn, led to the development of  …… (8) …… that would be used to increase the hotel's capacity to improve  …… (9) ……  as well as quality. Also, an older program known as  …… (10) ……  was introduced at SAH. In this program, …… (11) ……  is sought from customers and staff. Wherever possible  ….. (12) ……  .suggestions are implemented within 48 hours. Other suggestions are investigated for their feasibility for a period of up to  ……. ( 1 3 ) ……
1. C; 2. A; 3. C; 4. B; 5. B;
6. benchmarking; 7. (a range of) service delivery; 8. (performance) measures; 9. productivity; 10.(') Take Charge ('); 11. feedback; 12. employee(s') / staff; 13. 30 days
LATEST POSTS
Ielts reading practice 115: the concept of intelligence, ielts reading practice 114: alexander henderson (1831-1913), ielts reading practice 113: bringing cinnamon to europe, ielts app - mobile.
Get ready for the IELTS exam with our IELTS prep apps. Over 1 million downloads
Popular Last 24h
Describe a film that made you laugh, describe something difficult you would like to succeed in doing, describe a short trip that was special to you, in many countries,today there are many highly qualified graduates without employment., two-way discussion : family.
IELTS Test/Skills FAQs
IELTS Scoring in Detail
Forecast Speaking – 2023
List IELTS Speaking Part 3
List IELTS Speaking Part 1
IELTS Writing 2022 – Actual Test
Our Telegram
Join our community for IELTS preparation and share and download materials.
5 Successful Flexible Work Arrangement Case Studies
In the past few years, the way we look at work has changed significantly. Work-life balance is now more of a priority and is now one of the main benefits job-hunters look for in potential employers.
Work-life balance and flexibility are becoming more prominent since the pandemic kicks in, more and more people prefer to spend more time to taking care of their personal life.
No longer can companies offer higher pay or bonuses and think that it is enough to recruit top talent. Employees now want flexible or remote work—and companies across the globe are taking note.
Many improvements in flexible working have been facilitated by the growth in flexible office space. These spaces allow employees to switch up their routines and find motivation in new environments. It has also helped companies to reduce overheads and improve employee satisfaction.
Flexible office environment and work schedule allow employees more control over their lives. Instead of being constrained to their company's office, they now can work from flexible office space or home for the best efficiency whenever needed.
Here are some successful flexible work arrangements that showcase excellent work flexibility examples. These examples have proved to be beneficial for both employees and employers -- and can be implemented in a range of industries.
5 examples of flexible working arrangement
1. adaptavist.
The first of our flexible working examples comes from Adaptavist—a software solutions company that has embraced all work styles to create a full hybrid system for their employees.
Hybrid working is one of the most flexible styles of work. It allows staff to choose between working from the office, their home, or telecommuting.
At Adaptavist, they believe in an 'outcome-focused' way of work. They want employees to produce excellent results, but how they get there is up to them. If this means working 2 hours in the morning and 4 hours at midnight from home – that's fine! If it means working an 8-hour day at the office, it is equally as OK.
Employees at Adaptavist are also able to take advantage of flexible workspace. Without being confined to specific company offices, they have more freedom over their workday - and personal life. 
For many employees, working from home does not affect their output. But, for customer service representatives, not having access to the right tools and technology can severely impact their work.
At Humana, a U.S healthcare company, they introduced flexible work models into their business, but these policies did not benefit the call centre team. This is because their calls could only be recorded at their desks.
Other staff used flexible office solutions and chose their hours, but call centre staff had to work where their equipment was—the office. In response to this, Humana equipped all call centre staff with new technology. This allowed them to complete their work as normal, regardless of their location.
This meant that all staff, regardless of department or responsibilities, were able to enjoy the perks of remote work. Now, Humana is one of the best case studies of implementing flexible work schedules that are beneficial company-wide.
3. Unilever
Despite being a large, established company, Unilever has always been very forward-thinking when it comes to its work programmes.
The consumer goods brand has long allowed its employees to work from anywhere, making them a great flexible workspace case study.
They do not even ask employees to work a regular 9-5 day. Instead, they get the freedom to complete their work at any time that suits them.
Whether they want to work from home, a flexible office space, or a completely different country, Unilever supports them with adaptable work programmes. They also all have access to the technology they need to keep work standards high.
This flexibility has been made successful through the implementation of flexible office space. This helped staff adapt to the new ways of working seamlessly.
Alongside these arrangements, staff can also take part in job-sharing, reduced hours, and other examples of flexible working arrangements to help them to prioritise their work-life balance.
4. Forster Communications
Forster Communications, a London-based PR agency, is a good flexible workspace case study that shows even small companies can offer flexibility. The company, which has only 25 employees, is known for its work addressing the issues of mental health in the workplace. They have also incorporated many incentivised perks that encourage staff to prioritise their mental health.
Forster Communications offer staff five weeks of annual leave a year, flexible working hours, cycle-to-work schemes, and cashback for the miles they travel to meetings.
These perks allow workers the choice to work in flexible office space a few days a week. This change of scenery ultimately allowed for more productivity and motivation in their work.
Not only is Monzo disrupting the banking industry as we know it, but they are also turning corporate and work culture on their heads.
Their central office, located at Finsbury Square in London, offers employees weekly yoga and pilates sessions, team-building events around the city, plus extra days of paid annual leave.
In addition to the already-generous holiday entitlement, Monzo goes the extra mile to allow successful flexible work arrangements by giving an additional month of unpaid leave every year for those pursuing personal projects. This could include anything like travelling, learning a new language, or training for a marathon.
Monzo is an excellent flexible workspace case study as they have shown how to prioritise employee wellbeing while making office life adaptable and exciting.
Despite the office being a central focus for this innovative start-up, they also allow staff the flexibility to choose where they work. Whether that is from flexible office space throughout the week or the central office—they have well and truly put the power in the hands of their staff.
It now becomes the norm for companies to offer flexible working opportunities for their staff. Hopefully, by reading through these successful flexible work arrangements case studies, you see how beneficial they can be.
Whether you encourage your employees to work from flexible office spaces, increase their annual leave entitlement, or give them the tools they need to work from anywhere, the future of work is definitely in flexibility.
SIGN UP NOW!
For exclusive offers, the latest industry news, new openings, and more., location of interest:.
Kuala Lumpur
Ho Chi Minh City
07 Oct 2022
7 HR Strategies for Business Growth
23 Aug 2022
5 Points to Consider When Hiring a Qualified Business Lawyer
09 Aug 2022
5 Business Ideas for Retired Professionals
15 Jul 2022
From zero to hero: Expert tips for startups to get funding from venture capital firms
Flexible Office Space
Serviced Offices
Short Term Office Rental
Co-working Spaces
$200 Day Desk
Enterprise Solutions
Custom Workspace
IT Infrastructure & Network
Asset Managers
Meeting Rooms
Business Services
Virtual Offices
Start-ups & Entrepreneurs
Freelancers & Consultants
Small to Medium Sized Enterprise
Multinational Corporations
Global Expanders
Local Service Provider
Client Perks
Agents & Brokers
Referral Rewards
Commercial Partners
News & Events
Press Centre
Centre Directory
Sitemap | Privacy Policy | Legal Terms
© 2023 Compass Offices All rights reserved
Browser does not support script.
How to be part of LSE
Research and Policy Staff Development
Key information for staff
Departments and Institutes
Research centres and groups
Equity, Diversity and Inclusion
Flexible working case studies
a sample of the sorts of flexible working currently going on around the School.
'Flexible working' can mean a wide range of arrangements to suit different situations. Here is just a sample of the sorts of flexible working currently going on around the School. If you have a story which you'd like to share about an effective flexible working arrangement, please get in touch with your HR Partner or Adviser.
A Working Father at LSE (Andy Wilson, Directorate)
I recently returned to work from 4 months of Shared Parental Leave taking care of my daughter. My wife and I wanted to share caring responsibilities so that we would have an equal opportunity to develop our careers. We both made flexible working requests and thanks to LSE, and my wife's employer, we each spend one day in the week caring for our daughter.
During my shared parental leave I was re-elected as a local councillor and I was asked to take on additional responsibilities as the lead member for Finance. In order to fulfil my new role I needed to find more time to be available for commitments during the working day. I decided to make a flexible working request to reduce my hours so that I was required to work an average number of hours per week. I am now able to flex the amount of time I spend working at LSE, at the Council and at home with my daughter so that in some weeks I work more (or less) than my average hours.
Making a Job Share Work: Cynthia and Jess (HR)
We work in HR on a job share arrangement, which means that we each work 2.5 days a week in the same shared role. Previously, we were both working full-time. However, we both had interests outside work which we were pursuing and which meant a lot to us because it helped us maintain our work-life balance, but we were finding the time commitment very demanding. We spoke with our managers and they agreed to trial a job share which would enable both of us to dedicate more quality time to our outside commitments while at the same time doing a similar job within HR.
Our HR work is very customer-focused so it was crucial to us that we could make a job share arrangement work without affecting the level of service that we offer. Good communication is the key. We share a mailbox and an extension number, and our email signatures specify when we're going to be in the office so that people know when they can contact us. We also have half a day's handover every Wednesday so that we're always both aware of any outstanding issues – not only does this mean that there are no gaps in service, it can also mean that we actually offer a more complete service because we bring different perspectives to our work. This is just one of the ways in which our flexible working arrangements complement each other.
Of course, it's also a big help that we're both fully committed (and personally motivated) to making the job share work. This kind of commitment and a degree of flexibility can make a job share possible in all kinds of roles. It might not be for everyone, but in the right circumstances it can work really well.
Creating a Flexible Working Culture: the Library
The Library supports flexible working in a number of ways, so that staff can balance their work and home lives while ensuring that operational requirements and the business needs of the Library and its customers and users are fully met. Library staff work across a range of different work patterns, including part-time, term-time working and flexitime.
There's a strong focus on the value of an informal discussion before a formal request is made through the School's policy. This is often the best way to agree some flexible or ad hoc arrangements without needing to go through the formal process. For example, a member of staff could agree with their manager to finish early on a Friday if they've worked long hours earlier in the week, or to come in earlier and leave earlier for a temporary period of time e.g. during school holidays. The Library is also open to trialing flexible working arrangements to consider the potential impact on the team, workload, operations etc. There is an expectation that the employee and manager will work together to mitigate the impact. At the core of the Library's positive approach to flexible working is a mutually beneficial, win-win arrangement, where this is feasible.
Formal requests for flexible working are treated on a case by case basis, in accordance with School policy. Whether it's formal or informal, managers are encouraged to discuss with staff how flexible working will operate in practice, to work together on reviewing any potential issues with what was initially requested, and to think creatively about how any issues can be overcome. For example, this might involve looking at other options or compromising on aspects of the original request. Of course, this approach works best when everyone involved is prepared to be flexible in their thinking and reach win-win solutions. At the same time, we recognise that it's not always possible to agree to every request; if a request does get turned down, it's important that managers explain their reasons.
Creating a Flexible Working Culture: ARD
What kind of working practices do you have in your team and management style to allow flexibility and create a flexible working culture?
The Graduate Admissions Office (GAO) has a well-established flexible team culture, and the default position is that team members are trusted. The focus is very much on good outputs and great service to our stakeholders, rather than on 'presenteeism' or rigid working practices without a cogent rationale. Team members are permitted to work at home or remotely wherever feasible and appropriate; flexible working hours are also permitted on the same basis. The nature of much Graduate Admissions' work is highly seasonal, and at times involves long working hours: line managers find various ways of compensating those they manage during less busy times. The taking up of Shadowing, PAL Days, LSE Mentoring and Volunteering Days is also encouraged.
How do you manage staff effectively when they're working flexibly and aren't necessarily all in the office at the same time?
There are a variety of ways in which team members are managed within a flexible working culture:
For at least one sub-team, there is at least one day where, unless there is good reason not to, all members of the team (including line managers) will be present.
Regular informal meetings (e.g. weekly line managers' meeting), bi-weekly whole team meetings for much of the admissions cycle.
Regular one-to-ones between line-managers and those they manage.
Use of (not necessarily high) tech to maintain lines of communication and carry out shared tasks: line managers can phone in to the weekly meeting if working at home; use of shared inboxes, so that, for example, applicants' queries can be answered by those working at home/remotely.
We have regular informal, inclusive team-building activities (light-hearted quizzes and collective activities - bake sales, away days, shared festivities etc.) that encourage good communication and empathy between team members, ensuring not only a good team ethos, but trust and goodwill between managers and those they manage.
GAO service-users and stakeholders (applicants with queries, offer-holders, PSS and academic staff) across the School are asked for their feedback on GAO team-members on a regular basis.
Outputs are monitored: whether working remotely or in the office, team members work to individual daily/weekly targets and the quality of their work is also monitored in a variety of ways.
We use a shared calendar in Outlook to co-ordinate and plan ahead (e.g. flagging up 'out of office' days in advance).
GAO is entirely open-plan, which makes it easier to maintain good communication and monitor the performance of team members when they are in the office.
Why do you think having a flexible working culture is important to ARD?
Flexible working makes a big difference to how ARD works in a number of ways:
It builds in some extra resilience for the overall team and helps individuals to manage unexpected life events. Short-term events (e.g. broken boiler) and long-term issues (e.g. regular hospital appointments) can both be mediated by allowing some flexibility in working arrangements.
It allows one team member, who lives in Birmingham and has childcare responsibilities, to work full-time. She can make use of home working some days, and, when coming into the office, has flexible hours, which allows her to travel at off-peak times, saving on costs.
Some team members' roles involve a lot of detailed reading (e.g. the Graduate Admissions Selectors): such an activity is not always best carried out in an open-plan office. Allowing Admissions Selectors to work at home or remotely increases productivity and can lead to better quality outputs.
Flexible hours/remote working is routinely put in place for colleagues with childcare or other caring responsibilities so that they can maintain a healthy work-life balance.
In all such cases, individuals appreciate the importance to GAO of their particular circumstances, wellbeing and happiness. They feel valued as people as well as colleagues. Such working practices build loyalty.
What benefits do you see as a team to having a flexible working culture?
All of the above:
Productivity benefits in terms of being able to work quietly and effectively at home/remotely when working on complex or intricate tasks and projects; time spent working rather than commuting.
Motivation, commitment and going the extra mile: GAO is a happy and highly effective office. It was shortlisted in 2017 for the VIP Team Award (and the Head of Admissions won the 2016 VIP Director's Award).
Retention gains: some excellent and highly-valued colleagues simply would not be able to work without the flexibility offered by GAO's working culture: that would be a loss to GAO and to LSE.
Flexible working builds loyalty - to GAO and LSE more broadly.
A local approach to flexible working: LSE Careers
Staff within LSE Careers have access to a wide range of flexible working options. These include staggered hours, time off in lieu, home working, compressed hours, annualised hours and part-time hours.
Space for improvement
During the Department Away Day in 2018, staff identified flexible working as an area in need of review. Working from home and flexi-time received considerable attention with suggestions for reconsidering the default position. The default position was based on the premise that LSE Careers is client-facing, and that much of the work should take place on the School campus. Flexible working arrangements were reviewed and approved on a case by case basis, taking into consideration the needs of the individual and those of the department. Staff also identified that flexible working arrangements varied in shape and form across the teams; therefore, good communication regarding local practices and a clear plan for managing flexible working arrangements was needed.
Flexible Working Pilot
To address this issue a flexible working group was established with representatives from each team in the department. The working group carried out research, benchmarked across Russell Group careers services and consulted staff. Based on the recommendations of the working group a three month pilot was launched to trial:
Home working once a fortnight for all staff (excluding new staff still in their review / probation period)
Staggered hours to allow staff to start and finish work at varying times
To ensure the success of the pilot, all staff were trained on using LSE Remote Desktop, redirecting desk phone, using Outlook calendars to indicate flexi-work schedule. A technology audit was also carried out to determine whether staff had access to a laptop/PC at home and spare laptops were made available for booking out.
Throughout the pilot staff provided anonymous feedback and were able to discuss progress openly during weekly team meetings. An end of pilot evaluation survey was carried out and helped the department review the impact of the new flexible working practices. The results were positive and evidenced the benefits of flexible working.
How do you manage staff effectively when they're working effectively and aren't necessarily all in the office at the same time?
Clear communication and guidelines are necessary to ensure that all staff are aware of how to request and manage flexible working. Managers and their teams work together to create a balanced flexible working and annual leave schedule. Outlook calendars are updated to accurately reflect where staff are (i.e. working from home, working elsewhere on campus, TOIL etc.) and phones are redirected as necessary.
By organising a series of training workshops and including flexible working as a standing agenda item for weekly meetings, it has meant managers and their teams are able to constantly review arrangements, reiterate information and quickly resolve issues.
It is also important to ensure trust is at the centre of all working relationships and flexible working practices. We have encouraged transparency, clear and open communication and have involved the entire department in designing our local flexible approach.
Why do you think having a flexible working culture is important?
By supporting a flexible working culture in the department, we have received feedback of increased staff wellbeing and job satisfaction. We recognise that work-life integration and work-life balance is important to staff and we need to create an environment that supports that. We value our staff and their contribution; we therefore, want to support a flexible work culture because it makes our staff happy, boosts productivity and fosters a climate of trust.
Tailoring flexible arrangements to changing circumstances (Monika Hockenhull, Directorate)
I've had several flexible arrangements at LSE over the last few years to suit the developments in my personal life. In my previous role, I worked 4 days a week in the office, compensating for the fifth day in the evenings and weekends from home. This mix of flexible/staggered hours allowed me to spend one day a week with my children and catch up on work when they were asleep or with other family members.
I've now changed the arrangement due to the fact that my son started school in September. I now finish work earlier two days a week to be able to pick him up from school, working from home one of those days to save commute time. I will continue compensating for the hours in the evenings. This arrangement does not allow for a clear cut between work/home life, however, the flexibility is very helpful – it reduces pressure and childcare costs.
Print or share
Flexible Working Policy
Types of Flexible Working (quick reference guide)
Flexible Working Request Form (formal requests)
Case Study 4.3: FLOE (Flexible Learning for Open Education) Project
Another strategy for teaching about accessibility is to place it at the forefront in the systems and tools that you provide to faculty and students at your institution. For instance, if you are setting up platforms or environments for authors and creators, you might consider options for integrating a preferences editor or toolbar. A preferences editor, as described by the FLOE Project , allows users to customize their experience of a website or digital technology to enhance accessibility. A preferences editor allows users to alter text sizes, line spacing, link style, and color contrast or add in structural information like a table of contents.
To see a preferences toolbar in action, click on the "show preferences" link at the top right of the FLOE Project webpage . The following screenshot shows the site with preferences already selected from the toolbar. In this case, a table of contents and emphasized links have been added.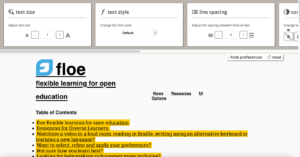 FLOE provides the source code for the preferences toolbar on their UI Options webpage. Note that a WordPress plugin is also available to enable these enhancements for properly rendered HTML/CSS webpages.
Two additional options from FLOE, should you be setting up sites for authors, are metadata authoring and feedback tools. The metadata editor prompts authors to add alternative accessibility information when they are putting together webpages.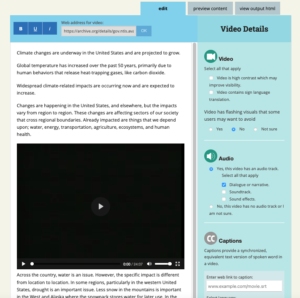 This tool incorporates the authors' responses into accessibility tags in the HTML. For instance, it populates the <meta content> tags for accessibilityFeature, accessibilityHazard, and accessMode.
On the flipside of the metadata editor is the metadata feedback tool , which gathers feedback from website users who may identify an accessibility problem. The metadata feedback toolbar, demoed below, provides options for submitting feedback regarding limited accessibility.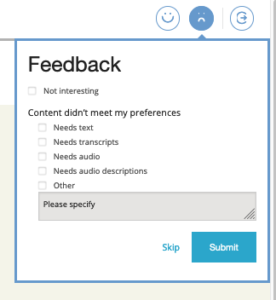 The code for FLOE's metadata projects is available in the fluid-project GitHub .
Share This Book
Study at Cambridge
About the university, research at cambridge.
Undergraduate courses
Events and open days
Fees and finance
Postgraduate courses
How to apply
Postgraduate events
Fees and funding
International students
Continuing education
Executive and professional education
Courses in education
How the University and Colleges work
Term dates and calendars
Visiting the University
Annual reports
Equality and diversity
A global university
Public engagement
Give to Cambridge
For Cambridge students
For our researchers
Business and enterprise
Colleges & departments
Email & phone search
Museums & collections
Flexible Working
SPACE: Supporting Parents and Carers @ Cambridge
Family Related Policies
Flexible Working overview
Case Studies
Tips & Tricks
Support Network overview
Useful Information
Activities for Children
Caring for Children During Coronavirus
The Childcare Office
Parents @ Cambridge
Carers @ Cambridge
Support Network
Case studies
These flexible working case studies highlight how flexible working can be achieved within the University and the advantages of a healthy life-work balance. Reasons for working flexibly can vary, and specific working patterns can adapt to personal and departmental circumstances.
The  case studies demonstrate the tremendous positive impact that flexible working has on the personal and working lives of the participants, whether it was to combine work with family commitments, sport, health related issues or other professional activities.
© 2023 University of Cambridge
Contact the University
Accessibility
Freedom of information
Privacy policy and cookies
Statement on Modern Slavery
Terms and conditions
University A-Z
Undergraduate
Postgraduate
Research news
About research at Cambridge
Spotlight on...