PowerPoint 101: The Ultimate Tutorial for Beginners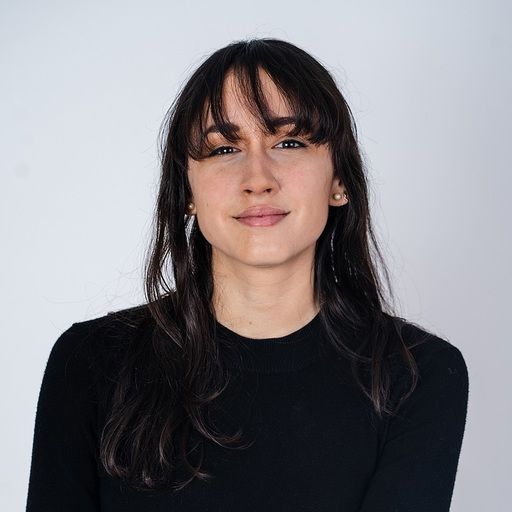 You haven't worked before with PowerPoint? Don't worry, you have nothing to be ashamed of. Maybe you have been worried about other things. Or maybe you just need a little refreshment on your PowerPoint basics. Either way, it's always wise to look for help when you're not sure about something. You'll get everything you need to know for making a simple presentation in this PowerPoint tutorial for beginners. It is a pretty intuitive software, so you won't have much problem getting the hang of it. So, are you ready for a quick PowerPoint 101 class?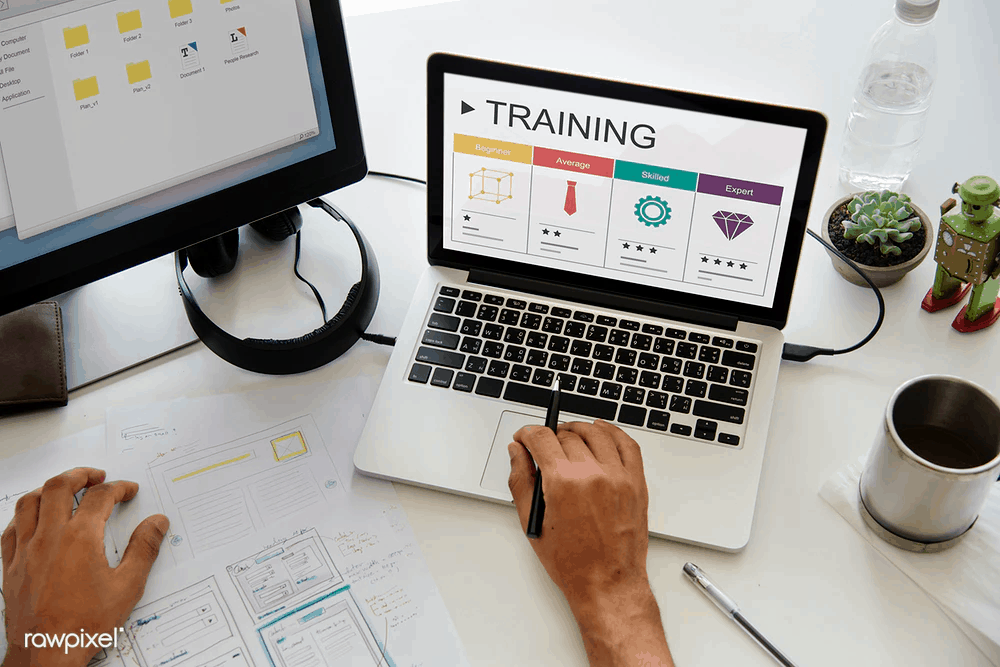 Although this article will be focused on the basics of the basics, you'll find links here and there on how to improve certain specific aspects. Just keep on reading!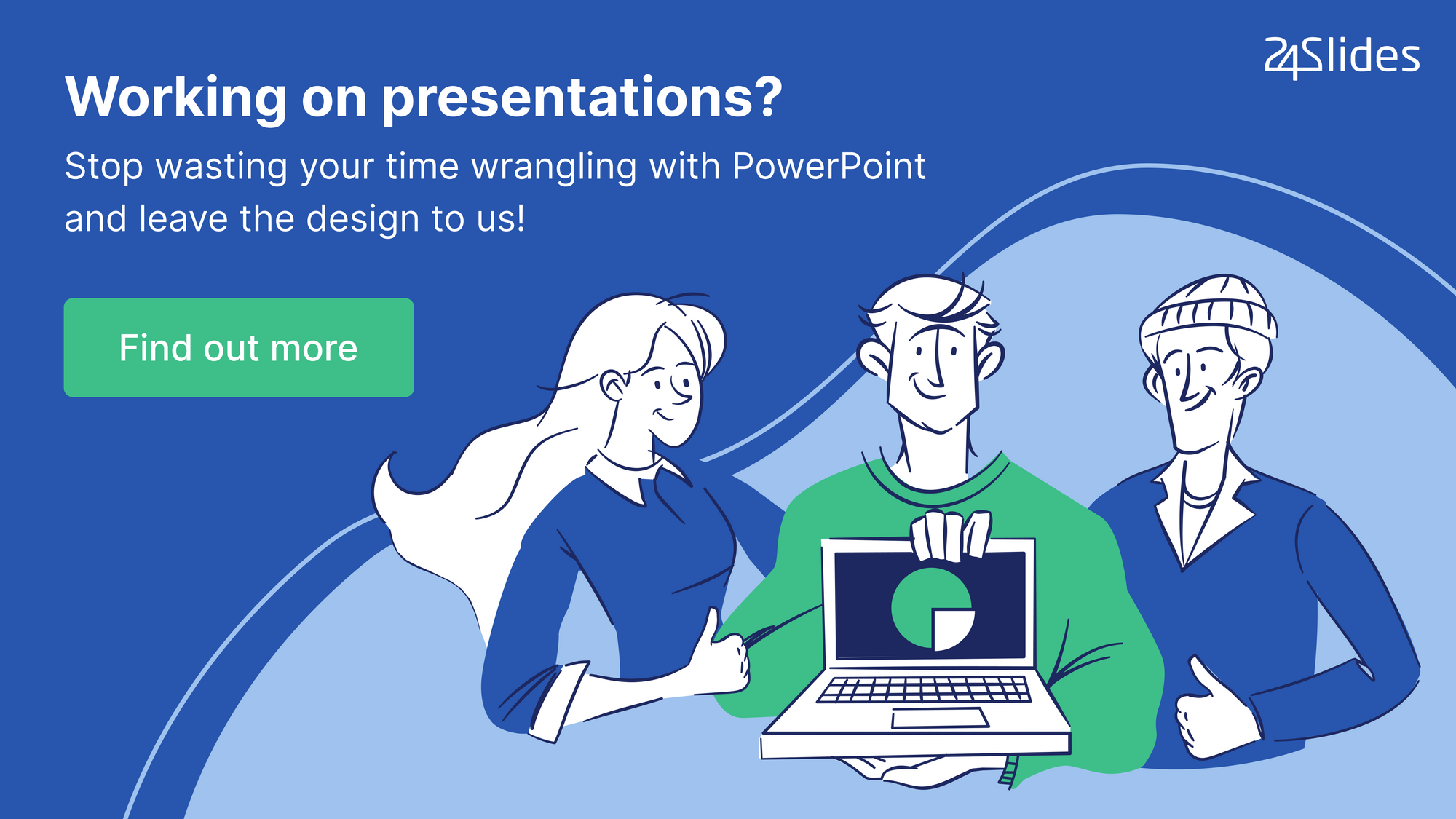 What is PowerPoint?
First things first. PowerPoint is a presentation software that is part of the Microsoft Office suite. Chances are that you probably already have PowerPoint installed on your computer, even if you have never used it before. So why not take advantage of it?
PowerPoint is an incredible tool to design not only presentations but many other things. Infographics, videos, business cards , you name it! However, it's most extended use is definitely to create presentations. Whether it is for your client, your boss, or your team, PowerPoint allows you to create a customized audiovisual aid to accompany you while you're speaking in public. What you want to include in your PowerPoint slides it's up to you. Images? Graphs, diagrams, charts? A summary? A bullet-point checklist? There are unlimited options, and it's up to you and your imagination to figure out what you can do.
Precisely because there are so many options it can be hard to know where to start. But that is what this article is all about!
Just a quick note before we start with the PowerPoint basics. In this tutorial, I'll be using PowerPoint 2016 as an example. However, this 101 guide is useful for both older and newer versions. While certain elements might not be in the exact same order, everything has remained pretty much the same, so don't worry about it. Even if you're using PowerPoint for Mac, all the features are still the same.
PowerPoint 101: starting your presentations
Once you open up PowerPoint, you'll see the Home Menu. If you have ever used any of the other Microsoft Office software, like Word or Excel, you'll probably find this familiar. In short, this is the main page where you can select to create a new presentation or open an older one.
On the lower side of the screen, you'll find your recently opened PowerPoint files. This option is great for saving some time. If you don't find the presentation you're looking for, you can click on the Open option at the left bar of the screen. There you'll find even older files, and if you still can not find it, you can open the File Explorer with " browse ".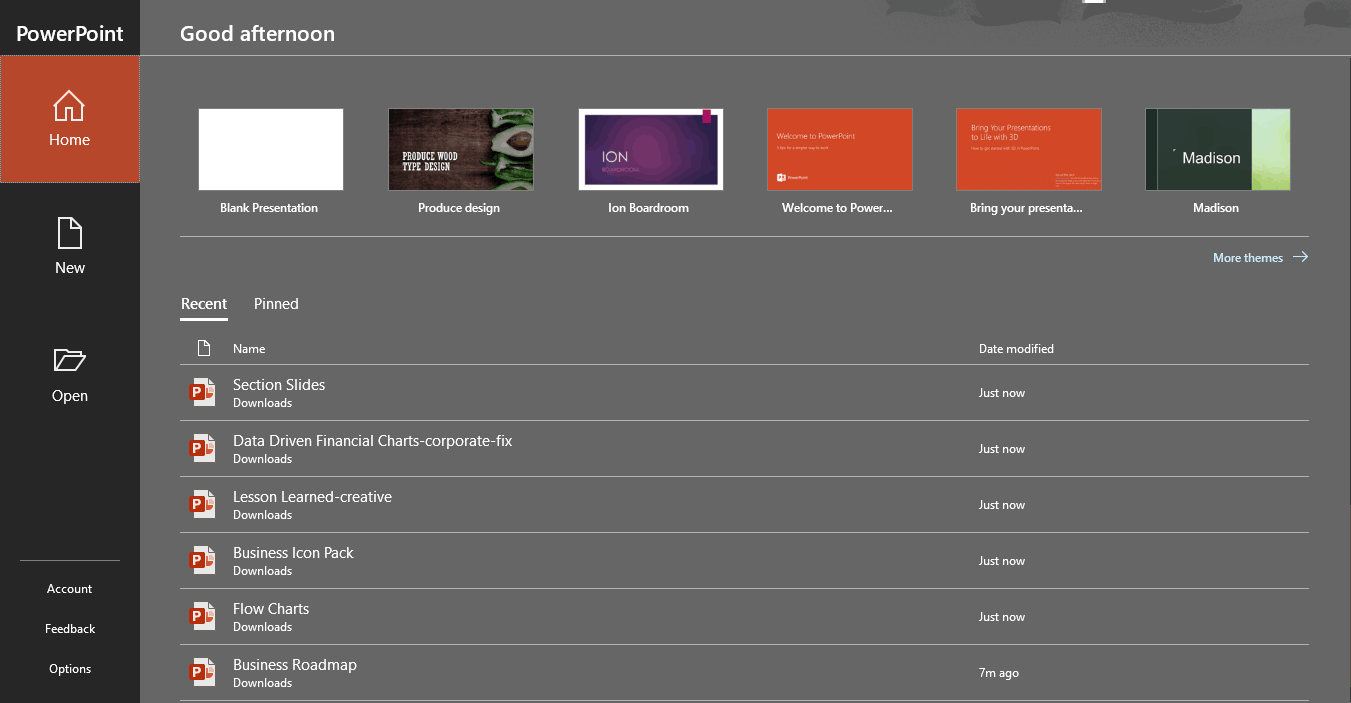 If you want to start a completely new presentation, you have two options. You can create a blank presentation and design it from scratch. This is great if you need something very specific. Or if your brand or company has a really strict visual line or color palette that you need to stick to. This option definitely takes more time, but it's not impossible either. If you know the basic rules of design , everyone can make a good PowerPoint deck.
The other option is to use a template. This is a great option for those looking for something quick but that still has a clean look. Templates are a whole world on their own, so let's get into PowerPoint templates basics.
What is a template and how to use them
A template is a pre-made design that you can use for your own means. Templates can be incredibly specific. For example, templates for a SWOT analysis, or a marketing report. But they can also be very general, like having several slides with a similar design. General templates are meant to fit the necessities of many, so you can organize your information in them how you see fit. Templates are great because all the design work is already done, and you only have to update the content.
Templates are not exclusive to just PowerPoint. Word, Excel, and thousands of other softwares use templates too. However, since PowerPoint's main function is to present something in front of an audience, it's no surprise that is the one that uses templates the most. When doing a presentation, you need to catch your audience's attention and engage them. An aesthetically pleasing presentation not only helps you make sure you'll get everyone's attention. A well-designed presentation helps convey the information in more efficient ways, and can even showcase an image of yourself or your brand.
By using a template you'll be sure that, even if it's not a tailor-made presentation design, your presentation still has a clean look. There are thousands of presentation templates completely at your disposal. If you click the " More templates " option, you'll be redirected to the whole Microsoft office library. You can use the search bar to look for more specific and better-suited templates for your presentations. If you click on any of them, you'll get a preview of what the template is about. Once you have picked the one you want, you just need to click on the " Create " icon, and you're ready to go!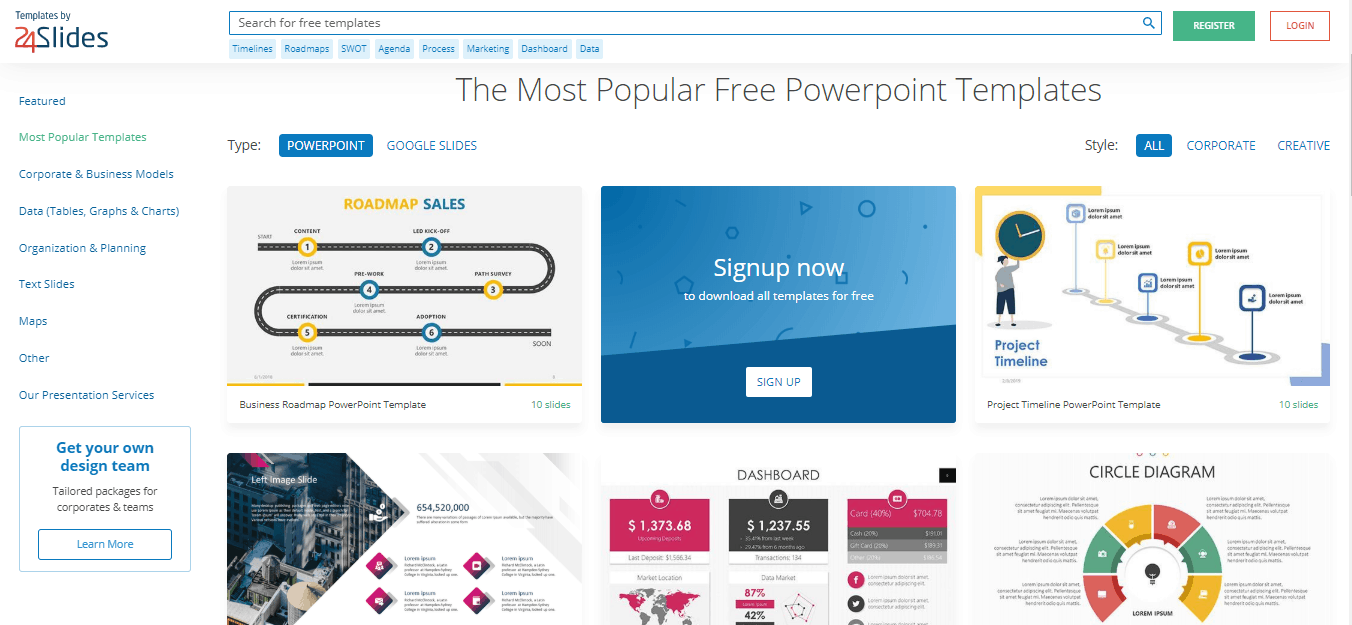 If even with that you don't find a template that you like, don't worry! There are many places online exclusively dedicated to PowerPoint templates. Our Templates by 24Slides site , for example, has thousands of templates ready for you to use. Our designers specialize in business and corporate PowerPoints, so you will find a much bigger catalog for specific business models and reports. You just need to register, and you'll be ready to download freely every single template you want.
PowerPoint 101: the Workspace
Once you have selected your template (or the blank presentation) you'll be redirected to PowerPoint main workspace. You may feel overwhelmed by all the options and icons, but it's actually fairly easy. If you follow this quick PowerPoint 101 tutorial, you'll be able to identify and use the basic ones.
PowerPoint's main screen is divided into three big parts. The first one, and the bigger one, is the Slide Editor . Here it is where you'll make any changes to the slide you're currently working on. You can add text, images, graphics, videos, and so on.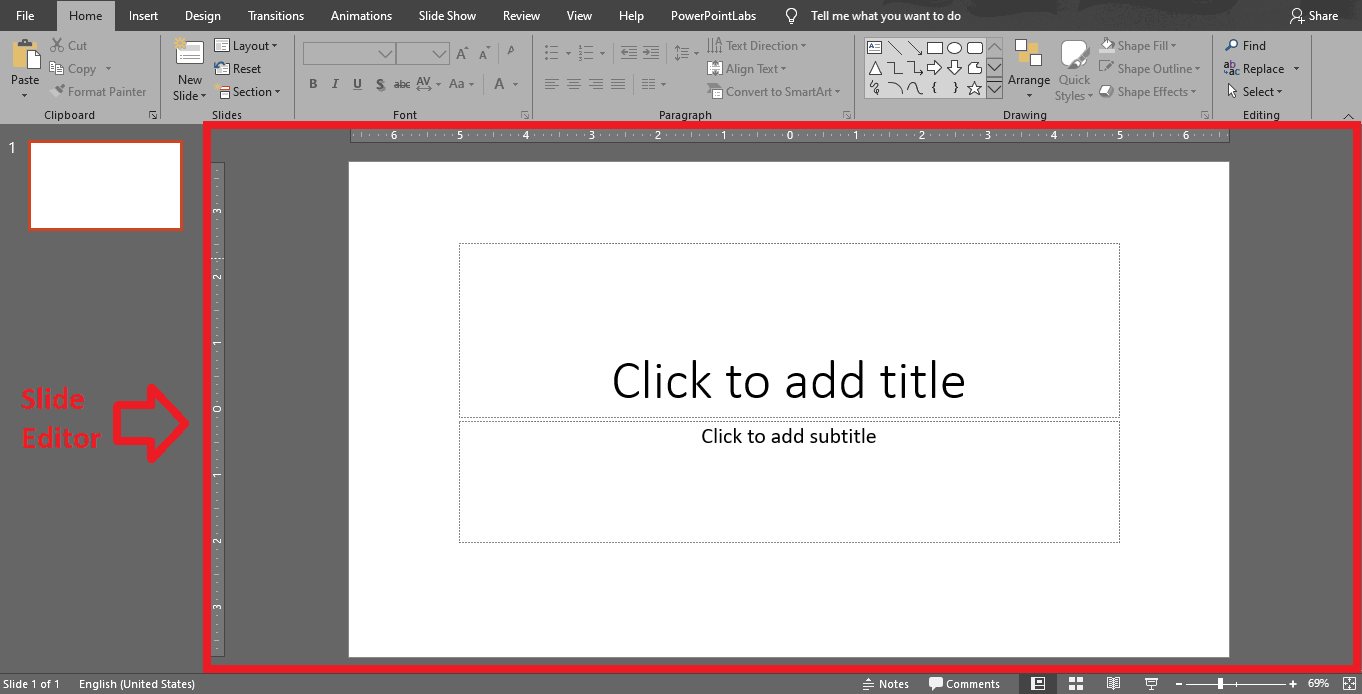 The second part is the one on the left side of the screen: the Slide Thumbnail View . These small images are a representation of all the slides you currently have in your presentation. It would be uncomfortable to have all of them opened at the same time. This is why the thumbnail view option exists. When you click on any of them, the selected slide will be the one appearing at the Slide Editor area. You can go back and forward between slides as you wish by clicking on the thumbnail view.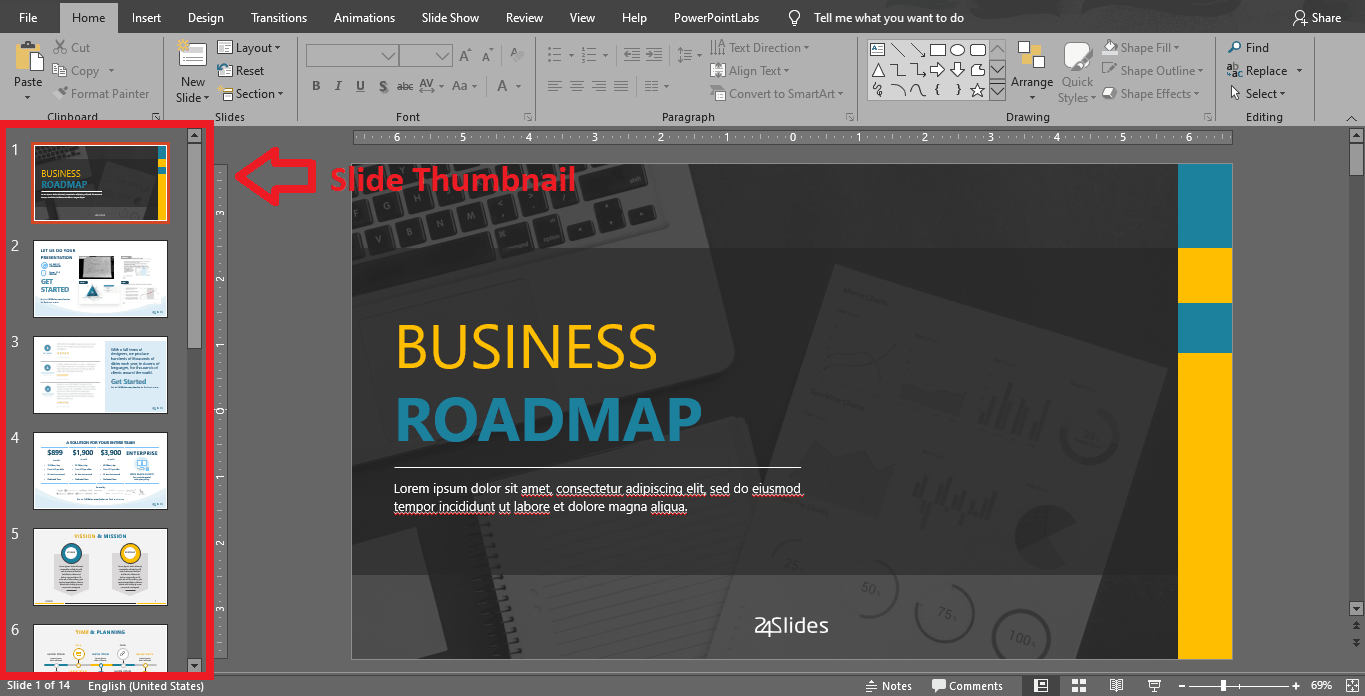 You can also add, delete, and duplicate slides in the Thumbnail View. If you right-click any of your thumbnail slides, you'll get a menu with these options.
Finally, the third part of the screen is the Tabs and Ribbons . You'll find this in the upper part of your screen, right on top of the Slide Editor and the Thumbnail View. Each of the tabs (Home, Insert, Design, Transitions, Animations, Slide Show, Review, View and Help) opens its own ribbon. And in the ribbon, you'll find different options concerning its topic.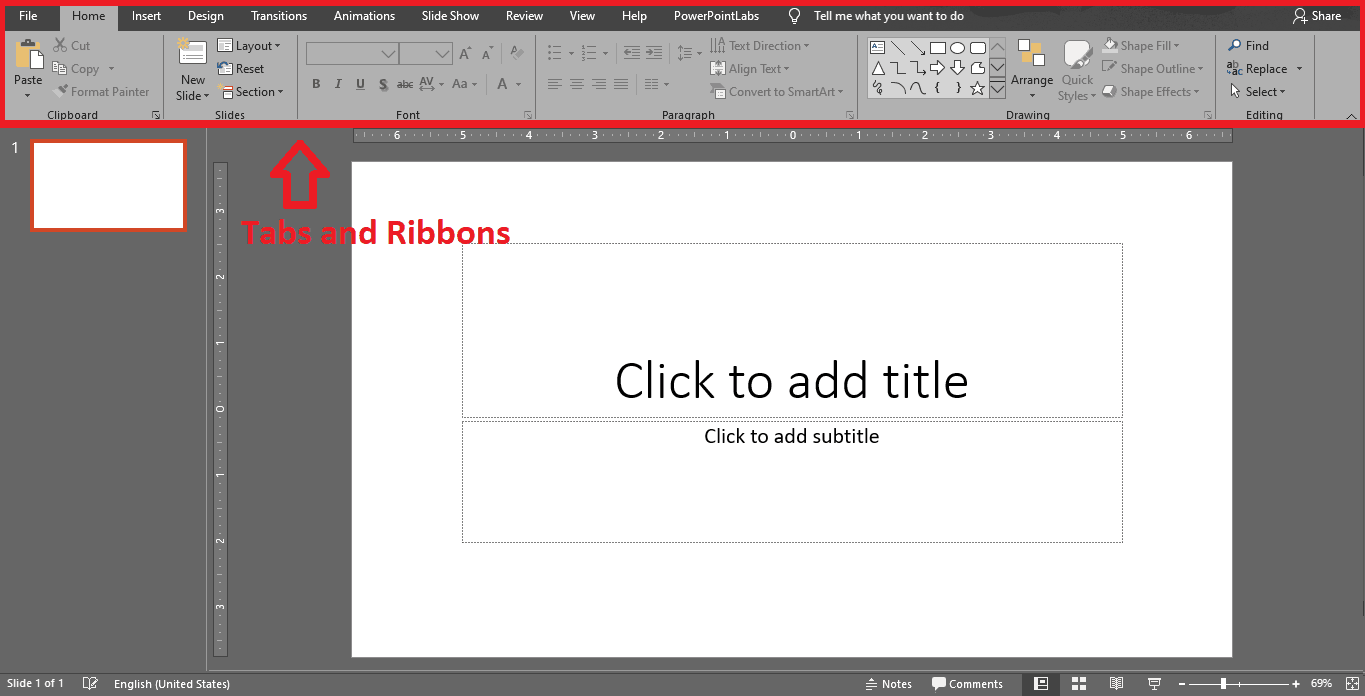 PowerPoint basic commands: the Tabs
The PowerPoint tabs are the control desk of your presentation. The changes and addition that appear in your Slide Editor will be thanks to a command from this area. Since PowerPoint functions are too many, they're organized in Tabs . These tabs group together similar functions so it's easy for you to find exactly what you're trying to do easier. In short, they group PowerPoint commands into categories.
You can come a go between tabs as you please and according to your needs. Once you click on a Tab, it will open its ribbon , and there you'll be able to see all the functions related to that particular category.
In this PowerPoint tutorial for beginners you will have an overview of all the tabs. But, we will only go through the most basic commands. PowerPoint is great precisely because it's so versatile and has so many design options. But going through all of them would take years. Still, here you'll find a general overview of what you can find in each ribbon.
The Home Tab has the most common and basic commands of PowerPoint. This is the tab you'll probably be using the most if you're designing your own presentation from scratch. It allows you to add new slides and change the text characteristics (font, size, boldness, etc., ust like in Microsoft Office Word).

In short, what you'll find in this ribbon is all about how you want to show your written content . How big do you want your text to be? What color? How do you wish it is arranged in the slide?
This tab is exactly what its name says it is. In this ribbon you'll find all options concerning adding a new element to your slide. It can be a picture you have store in your PC, or one you've found online. Maybe you want to add geometric shapes to your presentation, or WordArt lettering so your title stands out. If you have a lot of data, you might want to add a chart or diagram to show it in a more visual way. You can also add videos or audio . There are many options, so it all depends on how much time you spend tinkering with it.

One important footnote: To be able to write text to your slides, you need a text box . So if you're designing your presentation from scratch, remember to go first to this tab and add a text box to start writing! Most pre-made slides layout that you can pick already have text boxes, but it's always good to know how to add more in case you need it.
If you want to know more about how working with these elements in your presentation, you can check out this Ultimate Guide To Using Images, Videos, And SmartArt Graphics In PowerPoint .
This is the tab you want to go to if you want to customize the look of your presentation. It offers you a wide range of pre-made designs so you can give your presentation look more polished. Even better, you can tune the color palette and overall style (fonts, effect, etc.) the design you chose.

If you're doing your own background, this one is also the tab for you. Just go to Design > Variants > Background Styles > Format Background. With this, a background menu will appear that will help you customize your background to make it exactly as you want it to be.
Making a background on your own can be very time consuming, though. Check out these background templates you can download for free. Or if you are sure about doing it all on your own, this great article on how to work with PowerPoint backgrounds .
Transitions
Transitions refer to the way it looks when you go from one slide to another. By default, the next slide will simply "appear". But PowerPoint offers you so many options to change slides. Some are really classic, like wiping the old slide to present the new one. Others are really over the top, like the origami effect. If you click on any of the transitions, you'll see a preview on how it would look when presenting.

This ribbon controls the way the elements of your slide appear (or disappear). By default, all elements will appear all together as soon as you change slides. But PowerPoint gives you many options in case you want to highlight something, go point by point, or any other thing you want to showcase.

Animations and transitions can seem exciting at first, but be careful with them! It can make a presentation slow and unprofessional if there are too many on them. For PowerPoint beginners following this 101 tutorial, the best advice is probably to keep it as clean and simple as possible. But if you want to know more on how to use animations on your presentation, check out this article on how to work with animations in PowerPoint .
As its name says, this tab is about presenting you PowerPoint. It gives you several options to customize your presentation. As a beginner, however, you're not very likely to use this tab much.

This one is another tab that is not used very much by beginners. It has useful options, like checking the slide's spelling. It also gives you the option to add comments, in case you want to set a note of some specific element, for example.

This one is another pretty advanced tab for PowerPoint. It gives the option to change the view of the slides and make handouts from them, among other things.

Finally, there's the "Help" tab. If you have any problem or question concerning how to use PowerPoint, you may go to this tab to look for a solution. The best thing about it is that in the latest versions, Windows has added a "Show Training" option. You can click on this option to practice your PowerPoint skills. It will download training templates you can work on to improve your PowerPoint basics.

A quick note before going any further. When opening PowerPoint, some of the commands in the ribbons might seem unavailable or unresponsive. Their icons will look grey-ish and they will not highlight themselves when you hover the mouse over them.
This is because some functions need something to be selected in order to function. For example, if you want to change the color of a text, you first need to select it. Once you have selected whatever it is you wish to change, the unavailable functions will function normally. It depends on each function, so don't worry much about it. Just remember that if something isn't working, try first selecting what you're planning to change.
Presenting your PowerPoint
After you have work on your PowerPoint, you are now set to give your presentation! But wait. Before you even think about presenting in front of the audience there is one vital thing you should do first. You should always try out your presentation. And the way you do this is to look at the presentation from the exact same perspective your audience will look at it.
You probably don't want your audience to be distracted by the thumbnails, or the ribbons, or your comments, Those are only for when you're editing. For the actual presentation, you should always put it on the SlideShow mode. This will make your presentation appear in full screen. You can go through the slides by using the keyboard's arrows to go forward and backwards. Or you can use your mouse. Each left click will bring the next element, whether it is a picture, an animation or the next slide.
You can access the Slide Show mode though different ways. You can pick the Slide Show tab and pick the first option "From the Beginning". Or you can pick at the Slide Show Icon at the lower right corner of your screen, right next to the zoom. This one will put in presentation mode which ever you slide are currently working on, so be careful with that!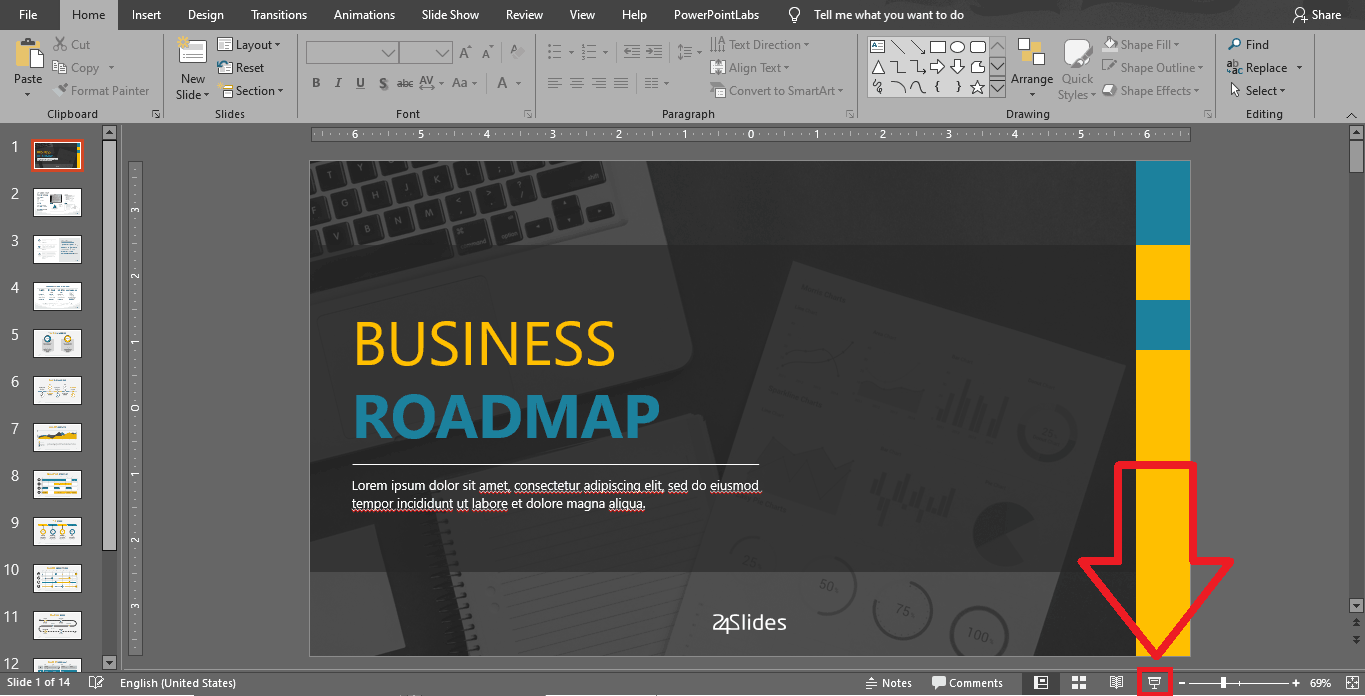 To go out from the Slide Show mode, you just have to press the ESC key. Or, you can go all the way through your presentation. After it's over, it will automatically bring you back to the Slide Editor.
Improve your PowerPoint basics
I hope this PowerPoint tutorial for beginners was useful to you. PowerPoint is such a versatile tool and has so many options that it can be quite intimidating if you don't know where to begin. It might seem pretty difficult and a slow process at first. But the true lesson of this PowerPoint 101 class is that practice makes perfect. The more you work with it, the more used you'll get to all the options PowerPoint has to offer.

It's true that designing a presentation takes time and effort. And while it's always useful to know the PowerPoint basics in case you need them, it'll take a long, long time before they look professionally designed. So why not hire a professional? If you don't think you can invest the time and dedication necessary to make a good PowerPoint demands, 24Slides have the very best PowerPoint designers that will turn your presentation into a unique, outstanding PowerPoint.
Create professional presentations online
Other people also read
How to embed video in powerpoint | mac | 2016 | 2013.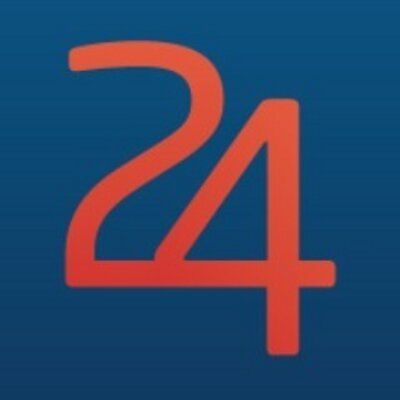 Tutorial: Save your PowerPoint as a Video
How to download and install fonts for powerpoint for mac.
We've updated our privacy policy. Click here to review the details. Tap here to review the details.
Activate your 30 day free trial to unlock unlimited reading.
Basic computer ppt
You are reading a preview.
Activate your 30 day free trial to continue reading.
Check these out next
Download to read offline
you get from basic computer to ppt in computer
Recommended
More Related Content
Slideshows for you (20).
Similar to Basic computer ppt (20)
Recently uploaded (20)
1. BASIC OF COMPUTER BY KRISHNA KITTI
2. CONTENTS • ABOUT COMPUTER • KEYBOARD • MOUSE • GENERATION OF COMPUTER • INPUT DEVICE • OUTPUT DEVICE • HARDWARE • SOFTWARE • TYPING • ABOUT INTERNET • SHORT CUT KEYS • GMAIL • GOOGLE DRIVE • PPT
3. WHAT IS COMPUTER • An electronic device which is capable of receiving information (data) in a particular form and of performing a sequence of operations in accordance with a predetermined but variable set of procedural instructions (program) to produce a result in the form of information or signals.
4. FATHER OF COMPUTER • Charles Babbage • INVENTED IN 1946
5. FULL FORM OF COMPUTER • C=COMMMONLY • 0=OPERATED • M=MACHINE • P=PARTICULARLY • U=USED FOR • T=TRAINING • E=EDUCATIONAL • R=RESEARCH
6. TYPES OF COMPUTER • Mini Computer • Super Computer • Personal Computer • Micro Computer • Laptop • Tablet
7. KEYBOARD • A keyboard is an input device that uses an arrangement of keys or buttons that have letters, numbers or symbols that when process the letter on the keyboard then shows up an the screen
8. TYPES OF KEYBOARD • There are 2 types of keyboard namely: • Standard keyboard • Multimedia keyboard
9. MOUSE • The mouse is a pointing device . We use it to move a graphical pointer on the screen
10. MOUSE FULL FORM • M=Manually • O=Operated • U=Utility use for • S=Selecting • E=Equipments
11. GENERATION OF COMPUTER First Generation (1946-1955) vacuum tubes Second Generation (1955-1965) Transistors Third Generation (1965-1975) Integrated Circuits Fourth Generation (1975) Present micro processors Fifth Generation ( Present and beyond ) artificial intelligence
12. INPUT DEVICE • Any machine that feeds data into a computer is called as input device • Example: a keyboard which is used to enter data into the computer and other examples of input are mouse, scanner , microphone , joystick, remote etc
13. OUTPUT DEVICE • Any machine which displays the information in either soft or hard copy for example monitor display's the information on the screen (soft copy) and printer prints the information on the paper ( hard copy ) and other examples are projector, speaker etc…
14. HARDWARE • The physical component of the computer are called as hardware, parts of which can be touched and feel • EXAMPLES: Mother board , Hard disk , RAM, Keyboard , Mouse etc….
15. SOFTWARE • Software is a set of programme • TYPES OF SOFTWARE • As operating system, it is a interface between hardware and the user • Ex: DOS, Windows 98, win xp, win ux, win8, win 8.1 , win 10
16. INTERNET • A World wide network of computer allows people to share information electronically • Why use the internet • Apply for jobs or schools • Fill out government forms • Check bank account • Communicate with family friends and co- worker • Read news • Watch videos
17. SHORTCUT KEYS • CTRL Shortcuts from A-Z: • CTRL + A = Select text CTRL + B = Bold text CTRL + C = Copy text CTRL + D = Open font formatting window CTRL + E = Centre text CTRL + F = Find a phrase CTRL + G = Go To a specific page or bookmark CTRL + H = Replace text with another text or replace text with different formatting CTRL + I = Italic CTRL + J = Justify text CTRL + K = Open Insert Hyperlink window CTRL + L = Left align text CTRL + M = Indent a paragraph from the left CTRL + N = Open new Word document CTRL + O = Open an existing Word document CTRL + P = Print Word document CTRL + Q = Remove paragraph formatting CTRL + R = Right align text CTRL + S = Save Word document CTRL + T = Create a hanging indent CTRL + U = Underline text CTRL + V = Paste text CTRL + W = Close Word document CTRL + X = Cut text CTRL + Y = Redo an action previously undone OR repeat an action CTRL + Z = Undo a previous action
18. SHORTCUT KEYS • CTRL + SHIFT Shortcuts From A-Z: • CTRL + SHIFT + C =Copy Formats CTRL + SHIFT + D = Double Underline text CTRL + SHIFT + E = Track changes CTRL + SHIFT + F = Change the font CTRL + SHIFT + H = Apply hidden text formatting CTRL + SHIFT + K = Format letters as small capitals CTRL + SHIFT + L = Apply the List style CTRL + SHIFT + M = Remove a paragraph indent from the left CTRL + SHIFT + N = Apply the Normal Style CTRL + SHIFT + P = Change the font size CTRL + SHIFT + Q = Change the selection to the Symbol font CTRL + SHIFT + S = Apply a style CTRL + SHIFT + T= Reduce a hanging indent CTRL + SHIFT + V =Paste Formats CTRL + SHIFT + W = Underline words but not spaces
19. SHORTCUT KEYS • Other CTRL Shortcuts • CTRL + ] = Increase size of selected text by one point CTRL + [ = Decrease size of selected text by one point CTRL + SHIFT+ > = Increase font size CTRL + SHIFT + < = Decrease font size CTRL + 1 = Single-space lines CTRL + 2 = Double-space lines CTRL + 5 = 1.5 space lines CTRL + 0 = Add/remove one line space preceding a paragraph CTRL + Left Arrow = Move one word to the left CTRL + Right Arrow = Move one word to the right CTRL + Up Arrow = Move one paragraph up CTRL + Down Arrow =Move one paragraph down CTRL + Page Up = Go to the top of previous page CTRL + Page Down = Go to the top of next page CTRL + END = Go to the end of document CTRL + HOME = Go to the beginning of document CTRL + ENTER = Page break CTRL + DELETE = Delete one word to the right CTRL + BACKSPACE = Delete one word to the left CTRL + TAB = Insert a Tab character CTRL + ALT + S = Copyright symbol CTRL + ALT + R = Registered trademark symbol CTRL + ALT + T = Trademark symbol CTRL + ALT + M = Insert a comment CTRL + ALT + I = Switch in or out of print preview
20. GMAIL • Gmail is Google's free web-based email service • Where we use • Office • Schools • Bank • Company • Hospital etc…
21. GOOGLE DRIVE • Google drive is a file storage and synchronization service developed by Google. Launched on April 24, 2012,
22. GOOGLE DRIVE USED FOR • Your storage works with Drive, Gmail and Google Photos, so you can store files, save email attachments and back- up photos directly to Drive. You can also purchase a larger cloud storage plan as you need it. Photos, videos, presentations, PDFs – even Microsoft Office files.
23. ADVANTAGES OF G-DRIVE • Access your files everywhere • You can edit and make changes to the files • Able to access with various devices • Easy to search your files • View any types of file • Share your files with your friends • 15GB Disk Space and It's FREE
24. WHAT IS MS-POWER POINT • Ms-power point is a presentation application it can be used for slide presentation .It was launched on may 22 1990 as a part of Microsoft office
25. WHY MS-POWER POINT USED FOR • For effective presentation • Multiple learning styles • Increasing visual impact • Improving audience focus • For making attention towards students
26. FEATURE OF MS-POWER POINT • Change font • Shapes • Clipart • Images • Charts • Tables • Animations • Animating text or chart
27. •THANK YOU
Share Clipboard
Public clipboards featuring this slide, select another clipboard.
Looks like you've clipped this slide to already.
You just clipped your first slide!
Create a clipboard
Get slideshare without ads, special offer to slideshare readers, just for you: free 60-day trial to the world's largest digital library..
The SlideShare family just got bigger. Enjoy access to millions of ebooks, audiobooks, magazines, and more from Scribd.
You have now unlocked unlimited access to 20M+ documents!
Unlimited Reading
Learn faster and smarter from top experts
Unlimited Downloading
Download to take your learnings offline and on the go
Instant access to millions of ebooks, audiobooks, magazines, podcasts and more.
Read and listen offline with any device.
Free access to premium services like Tuneln, Mubi and more.
Help us keep SlideShare free
It appears that you have an ad-blocker running. By whitelisting SlideShare on your ad-blocker, you are supporting our community of content creators.
We've updated our privacy policy.
We've updated our privacy policy so that we are compliant with changing global privacy regulations and to provide you with insight into the limited ways in which we use your data.
You can read the details below. By accepting, you agree to the updated privacy policy.

Basic Electricity
Basic Electricity . Basic Electrical Terms. Voltage: the driving force, potential symbol is V, units are Volts Resistance: resistance to flow symbol is R, units are Ohms Current: a measure of flow symbol is I, units are Amps Power: rate energy is produced or used
b fault ground sensor
transformer load
maximum circuit lengths
circuit breaker heating cable
More by User
Presentation Transcript
Basic Electrical Terms • Voltage: the driving force, potential • symbol is V, units are Volts • Resistance: resistance to flow • symbol is R, units are Ohms • Current: a measure of flow • symbol is I, units are Amps • Power: rate energy is produced or used • symbol is P, units are Watts
Water makes a great analogy for electrical systems. Higher voltage is just like running a pump at higher pressure. Voltage
The fish are swimming in current (water). In a piece of copper wire the electron moves from orbital ring to orbital ring of adjacent atoms. Current (amps)
Resistance (ohms)
Resistance differences
The analogy I R V
Ohm's Law relates these terms Ohm's Law: E = I • R I = E ÷ R
Distribution system components Utility Transmits at high voltageto reduce line losses 480, 600,1K, 10K Vac Reduces voltageto useable levels Distributes current andprotects circuits 120, 208,277 Vac Heating cable Uses electricity togenerate heat Subpanel withcircuit breakers Transformer
Standard Voltages • Commercial and industrial facilities • 120, 208, 277, 480, 600 Volts, 3 phase • Residential buildings • 120 and 240 Volts • We differentiate our products by voltage • 120 Volt vs. 240 Volt • 120 Volt products are designed for 100 – 130 Volts240 Volt products are designed for 200 – 277 Volts
Standard circuit breakers • Provide over-current protection for short circuits only • Trips if current flowing exceeds breaker rating • Typical ratings for heat-tracing applications: • 15, 20, 30, 40 and 50 amp • Manufacturers: • Square D, GE, Cutler-Hammer
Ground fault circuit breakers • In addition to over-current protection, these breakers trip if a small fault current flows to ground • 5 mA level for personnel protection (GFCI) • 30 mA level for equipment protection (GFEPD) • Required for all heating cable circuits by NEC, CEC and by Tyco Thermal Controls • Tyco Thermal Controls recommends 30 mA level equipment protection to avoid nuisance tripping • Selection Guide on Web site shows breakers available for different voltages; available in Tyco Thermal Controls price list
Ground fault breaker operation Circuit Breaker Heating Cable Line A Line B Fault Ground Sensor If currents in Line A and Line B are not equal, some current is going to ground through a fault. The ground fault circuit detects this imbalance and trips the circuit breaker.
Electrical Issues in Heat-Tracing • Maximum circuit lengths • Self-regulating cables draw more current at start-up temperature than at steady-state temperature • Thus, maximum circuit lengths are based on start-up current, not steady-state current • Tyco Thermal Controls calculates maximum circuit lengths to ensure current draw does not exceed breaker rating • Always use the design guide or TraceCalc for circuit lengths • Transformer sizing • Safe transformer sizing is based current draw at start-up temperatures rather than at steady-state • A conservative solution is: transformer load = breaker rating x 0.8 x voltage
Skip to primary navigation
Skip to main content
Skip to primary sidebar
Skip to footer

SlidesCarnival
Simple PowerPoint templates and Google Slides themes
Do you want a straight to the point design for your message? Here you'll find minimal, easy to edit, but not less professional, Google Slides themes and PowerPoint templates for your presentations. Make your presentation shine without distracting the public from your content.
Beige and Orange Minimalist Elegant Aesthetic Theme Presentation
Simple, classy, and colorful describe this minimalist aesthetic theme, easy to use as a Google Slides template, PowerPoint theme or […]
Pastel Cute Geometric Notebook Lesson Presentation
Please the eye and tickle the brain with these notebook lesson slides, perfect as a Google Slides template, PowerPoint theme […]
Grey And Purple Minimalist Aesthetic Resume
Sensationally simple, these minimalist aesthetic resume slides are easy to use as a Google Slides template, PowerPoint theme or Canva […]
Animated Meeting Plan Blue and White Illustrative Minimal Business Presentation
Tired of pointless meetings? Guarantee clarity and inspiration with these animated meeting plan slides, easy to use as a Google […]
Black, White, Orange and Blue Minimalist PhD Dissertation Presentation
Simple, clean, and classic, these minimalist PhD dissertation slides are great as a Google Slides template, PowerPoint theme or Canva […]
Black, Blue and White Simple Minimalist Thesis Defense Presentation
Choose a simple, classic theme for your complex topic. These minimalist thesis defense slides are perfect as a Google Slides […]
Dark Green and Yellow Minimalist Modern Workout Presentation
Use this minimalist template to bring the focus back to crushing your fitness goals or introduce yourself to your audience […]
Light Blue Simple Modern Dental Care & Supplies Presentation
If your niche is dental supplies, we've got a reason for you to smile. Impress potential clients with these dental […]
Pastel Blue, Salmon & Green Modern Organic Doodles Minimalist Gym Presentation
Share your fitness expertise, crush your workout goals, or introduce yourself to your audience with these minimalist gym slides, easy […]
Muted Green Minimal Geometric Wellness and Retreat Business Presentation
Help people improve their mental, physical, and spiritual health with these wellness and retreat slides, perfect as a Google Slides […]
Green and White Minimal Geometric Newsletter Presentation
Looking for a new angle? Show off all your best sides with this geometric email newsletter, easy to use as […]
Blue and Gold Minimalistic Newsletter Presentation
Tired of all the extra fluff out there? Get straight to the point with this minimalistic newsletter, easy to use […]
Beige Minimalistic Floral Pretty Portfolio Presentation
Let's be honest—if it pleases the eye, it's more fun to work with. These pretty portfolio slides are perfect as […]
Pink and Light Pink Minimalistic Floral Spring Presentation
Whether you're a student prioritizing your personal health or a professional sharing your wellness practice with the world, stay inspired […]
White and Black Minimal Fashion Photographer Portfolio Presention
Strut your stuff with this fashion photographer portfolio, perfect as a Google Slides template, PowerPoint theme or Canva template. Curate […]
90 Day Planning Timeline
Sometimes it's easier to achieve our goals when we plan for the near future. Break things down into bite-sized chunks […]
Company Timeline
hare your company's journey with a company timeline, easy to use as a Google Slides template, PowerPoint theme, or Canva […]
Product Timeline
Stay organized with this product timeline. Chart the journey of your product or service, all the way from the first […]
Vertical Timeline
Keep your tasks in line with this vertical timeline, perfect as a Google Slides template, PowerPoint theme or Canva template. […]
Corporate Roadmap
Take your company to the next level with a corporate roadmap, easy to use as a Google Slides template, PowerPoint […]
Ski Holiday
Celebrate your favorite time of year with these ski holiday slides, perfect as a Google Slides template, PowerPoint template, or […]
Winter Holiday
Bring a little warmth and cheer to the winter season with this winter holiday template, perfect as a Google Slides […]
Strategy Roadmap
Sometimes you don't know where you're going until you sit down and map it out. Whether you're a student completing […]
Opportunity Roadmap
When opportunity knocks, make a roadmap. Professionally designed and fully customizable, this opportunity roadmap is perfect as a Google Slides […]
Go to page 1
Go to page 2
Go to page 3
Go to Next Page »
Professional designs for your presentations
SlidesCarnival templates have all the elements you need to effectively communicate your message and impress your audience.
Suitable for PowerPoint and Google Slides
Download your presentation as a PowerPoint template or use it online as a Google Slides theme. 100% free, no registration or download limits.
All templates
Inspirational
Frequently Asked Questions
Google Slides Help
PowerPoint help
Who makes SlidesCarnival?
Got any suggestions?
We want to hear from you! Send us a message and help improve Slidesgo
Top searches
Trending searches
women history month
17 templates
international womens day
6 templates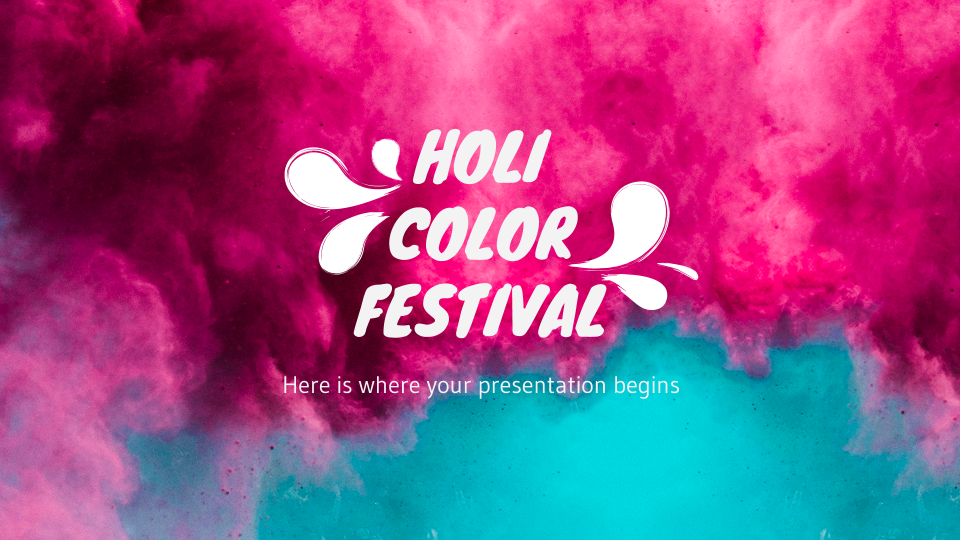 15 templates
frida kahlo
68 templates
mothers day
24 templates
10 templates
What are you going to use your presentation for?
Presenting data
I'm not sure
Free vectors, photos and PSD
Free customizable icons
Free online template editor
Free editable illustrations
Free videos and motion graphics
Simple plans for you
For Education & Business
Data Waves Business Basic Template
Data waves business basic template presentation, premium google slides theme and powerpoint template.
Sometimes it's best to keep it simple! Simple like this basic data waves template: Black text on light gray, without adornments save for softly drawn data net illustrations. It doesn't get more formal and professional than this! And the best thing is: All the pictures, graphs and columns are very easily editable, so you can make the template fit any content to a T. Download it now and start customizing it for any business-related purpose in Google Slides or PowerPoint!
Features of this template
100% editable and easy to modify
13 different slides to impress your audience
Contains easy-to-edit graphics such as graphs, maps, tables, timelines and mockups
Includes 500+ icons and Flaticon's extension for customizing your slides
Designed to be used in Google Slides and Microsoft PowerPoint
16:9 widescreen format suitable for all types of screens
Includes information about fonts, colors, and credits of the resources used
What are the benefits of having a Premium account?
What Premium plans do you have?
What can I do to have unlimited downloads?
Don't you want to attribute Slidesgo?
Gain access to over 14000 templates & presentations with premium from 1.67€/month.
Are you already Premium? Log in
Related posts on our blog
How to Add, Duplicate, Move, Delete or Hide Slides in Google Slides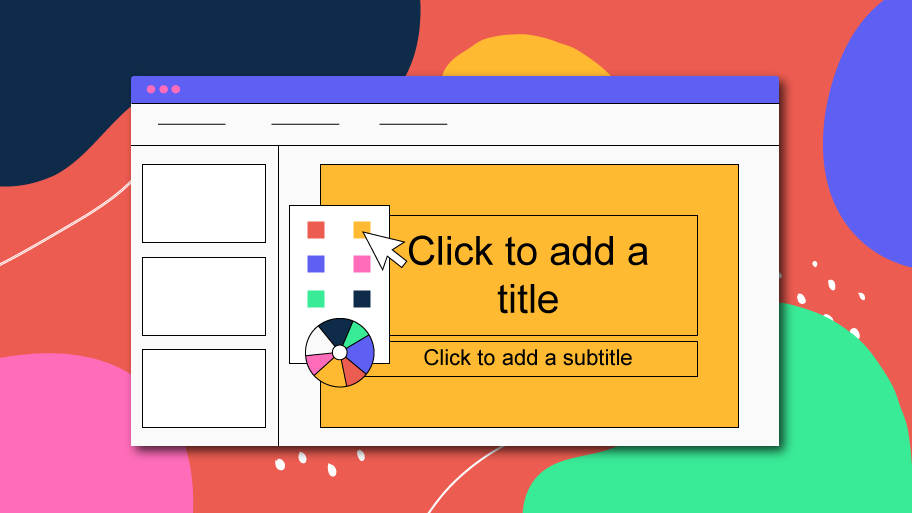 How to Change Layouts in PowerPoint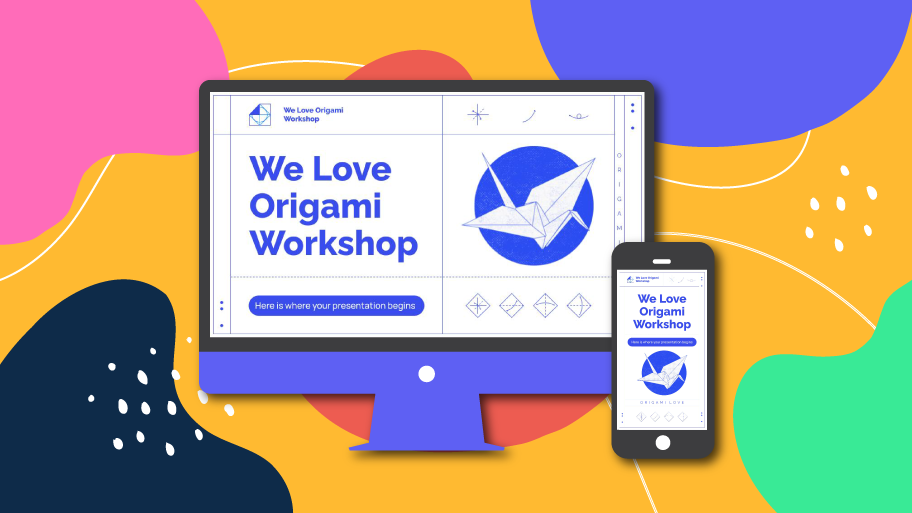 How to Change the Slide Size in Google Slides
Related presentations.
Premium template
Unlock this template and gain unlimited access
Skip to primary navigation
Skip to main content
Skip to primary sidebar
Skip to footer
Powerpointify
Free Powerpoint Presentation Templates
Free Simple Powerpoint Templates and Google Slides Themes for Presentations
Download free simple Powerpoint templates and Google Slides Themes , with simple ppt background slide designs to give a clean and straightforward message. Simplicity does not mean boring. Now in our modern society sometimes getting straight to the point is the best way to go. Simple is sometimes better because it helps your audience stay focused with no distractions. Create an informative simple presentation using the following simple powerpoint backgrounds and slides. Here you will find professionally designed and easy-to-edit Powerpoint templates curated by our awesome team.
Cheyenne Free PowerPoint Template
February 24, 2019 by Manny Lopez
The Cheyenne Free PowerPoint Template is a simple, but color presentation. The presentation uses simplistic fonts and content displays but adds a dash of color.
Amythest Free PowerPoint Template
January 24, 2019 by Manny Lopez
Great for any casual presentation, the Amythest Free PowerPoint Template uses Aztec designs to hold the viewer's attention and draw them to the slides. 
Azure Free PowerPoint Template
January 19, 2019 by Manny Lopez
With a hint of color but keeping it simple, the Azure Free PowerPoint Template is a great pick for any presentation and can be used in PowerPoint
Albany Free Powerpoint Template
September 15, 2018 by Stephanie Alvarez
For a simple, cool, and creative presentation template that will keep your information nicely organized, download the Albany Free Powerpoint Template. 
Rochester Free Powerpoint Template – Simple PPT Backgrounds
August 28, 2018 by Stephanie Alvarez
If you are looking for a simple, yet effective presentation template download Rochester Free Powerpoint Template. It comes with 25 Powerpoint simple templates for clean and well-designed presentations.
Fidele Free Powerpoint Template
July 23, 2018 by Stephanie Alvarez
If you are looking for a bold presentation template that uses a bold color to make your information stand out and create an impact, then you should use the Fidele Free Powerpoint Template. This presentation template uses the color red, that is associated with determination, power, and passion. 
Viola Free Powerpoint Template
June 19, 2018 by Stephanie Alvarez
Viola Free Powerpoint Template is a simple presentation template that uses a highlighter design and lays out your information in a way that is organized, simple, and clean. This presentation template will make your information stand out with the highlighter yellow color.
Stasia Free PowerPoint Template
You do not need so much to create the perfect presentation template, sometimes simplicity is the best way to show your elegance, professionalism, and creativity. Stasia Free PowerPoint template is a simple, clean, and minimal presentation template that is designed to make your information stand out.
Jacquenetta Free Powerpoint Template
June 7, 2018 by Stephanie Alvarez
Black and white presentations are professional and what people are used to seeing in presentations. Many may say that black and white is boring, but if you organize it correctly and add visual aids to helps present your information, then, as a result, you can have a clean, simple, yet appealing presentation template.
Vita Free Powerpoint Template
May 30, 2018 by Stephanie Alvarez
If you are looking for a professional and minimal style presentation template, then use the Vita Free Presentation Template. Vita is defined as biography or resume, making this presentation template perfect for professional and commercial reasons.
Xara Free Powerpoint Template
May 28, 2018 by Stephanie Alvarez
Minimal is having a simple form or structure, which is what this presentation has. It does not any bright colors or abstract shapes, but it does have a clean, organized, and modern look to it. Xara Free Powerpoint Template is designed to present your information in the best way that it can be presented to an audience. 
ECO Free Powerpoint Template
May 10, 2018 by Stephanie Alvarez
For an essential presentation for an economy project, let the ECO Powerpoint Template aid you. As a result, you will stand out and make your point come across. This template has a green color scheme, associated with qualities such as growth and ambition.
Taya Free PowerPoint Template
May 1, 2018 by Stephanie Alvarez
If you are looking for a minimal and multipurpose presentation, then you just found the perfect template. Taya has a minimal style, giving this presentation a simple look, yet the slides are organized, clean, and well designed giving the audience an impressive presentation.
Yellow Free Powerpoint Template
March 26, 2018 by Stephanie Alvarez
For an eye-catching colored presentation that will instantly grab your audience's attention use the Yellow free Powerpoint presentation template. This free presentation template for teachers or students has a clean and modern look making your presentation elegant.
Bluemark Free Powerpoint Template
February 12, 2018 by Stephanie Alvarez
The Bluemark free Powerpoint Template is a simple and modern template. This presentation template has 18 unique slides that are easy to edit just by dragging and dropping images, tables, icons and text boxes.
Tempo Free Powerpoint Template
February 10, 2018 by powerpointify
For a modern and clean look, this Powerpoint template is the one to make you stand out in any presentation. The tempo Powerpoint Template contains 23 slides with a unique design of excellent quality on every one.
Monique Simplicity Free Powerpoint Template
February 8, 2018 by Stephanie Alvarez
Just because something is simple, does not mean it cannot make a significant impact. Monique Powerpoint Template is excellent if you want a minimal design that has a modern look.
Hundreds of Eye-Catching Slide designs
The templates are fully editable in powerpoint, professional presentations for any kind.
PowerPoint help
Submit a Free Template
PowerPoint for Windows training
Other versions
PowerPoint for Mac Help
PowerPoint 2013 training
Additional help
PowerPoint help
PowerPoint keyboard shortcuts
LinkedIn Learning
PowerPoint templates
Microsoft 365 templates
Accessible Microsoft 365 templates
Need more help?
Join the discussion.
ASK THE COMMUNITY >
Get support
CONTACT US >
Was this information helpful?
Thank you for your feedback.
Unsupported browser
This site was designed for modern browsers and tested with Internet Explorer version 10 and later.
It may not look or work correctly on your browser.
How to Learn PowerPoint Quickly (Complete 2021 Beginner's Guide + Video)
What's the best way to get up to speed with a new app? When you open  Microsoft PowerPoint  for the first time, you quickly realize that there are many features and tools. But it can feel overwhelming to know where to start. You need PowerPoint help.
In this PowerPoint tutorial for beginners, I'll help you get up and running in Microsoft PowerPoint. You'll learn how to use PowerPoint to build a presentation in less time than you ever thought possible. We'll also cover some PowerPoint best practices to make sure you're doing things the easy way.
Guide to Making Great Presentations (Free eBook Download)
Before you read on, be sure to grab our free eBook:  The Complete Guide to Making Great Presentations . It'll help you master the presentation process, from: initial idea, through to writing, design, and delivering with impact.
What You'll Learn About MS PowerPoint in This Guide
This guide is packed with information that helps you learn how to use PowerPoint to build a presentation. Building beautiful slide decks takes a few steps, but each of these sections will help you address those steps. 
Jump ahead to any part of this tutorial guide to start learning PowerPoint specifics:
Table of Contents
Your Quick Start Guide to Learning PowerPoint (Video) Jump directly to our quick start video to get a head start on this tutorial. Our instructor will guide you through some steps to help you get started.
What is PowerPoint? Why should you use PowerPoint, and what are the key features?
How To Use PowerPoint's Ribbon . The ribbon controls the key tools in PowerPoint and learning how to use it will help you master the app.
The Steps to Create a PowerPoint Presentation for Beginners . Walk through the key steps for a complete PowerPoint beginner.
How to Power up PowerPoint . Learn the secret to skipping ahead in building a presentation using templates that have most of the work already finished.
PowerPoint Tools to Learn (For Presenters) . Not only is PowerPoint useful for  building  presentations, but also for presenting thanks to Presenter View. You'll learn more in this tutorial.
Tips and Tricks for a Successful PowerPoint Presentation . Learn some shortcuts for how to use PowerPoint quickly and efficiently.
More Beginner PowerPoint Tutorials (Free to Learn Online) . Explore other tutorials that help you continue learning PowerPoint for free. 
Microsoft PowerPoint Premium Online Courses . Watch complete screencasts of courses that guide you through building your presentation from beginning to finish.
How to Learn PowerPoint Quickly (Beginner Tutorial With Tips Video)
Are you ready to start learning PowerPoint? Watch this quick screencast to learn all about what PowerPoint is and how to use it .
Or, study the complete written tutorial below.
What Is PowerPoint?
Microsoft PowerPoint  is undoubtedly the most popular app used to give presentations. You're likely to see PowerPoint presentations being used for everything from presentations at the world's largest companies to grade schoolteachers sharing lessons.
PowerPoint is often the butt of the joke. Many decry PowerPoint as boring and a crutch for poorly prepared speakers.
Only a bad carpenter blames the tools. And like any tool, PowerPoint is incredibly useful when used properly. Use it as an aid on your speaking engagements to build comfort and drive points visually with your audience.
In this tutorial, we're going to focus on working inside of PowerPoint to build a presentation. This PowerPoint guide has everything you need to get comfortable in the app. To master the app, we'll talk about and cover the most common steps a rookie PowerPoint user needs to know.
Here are the key actions you'll need to take to build a PowerPoint presentation:
You'll need to add  slides,  the individual pages in the presentation.
You'll add  content  to the slides, such as text boxes, images, charts and graphs.
Change themes and styles  to make your presentation look professional and fit the occasion at hand.
Prepare presentation aids like  Speaker Notes  and Presenter View to help you feel comfortable with presenting.
We'll cover each of these in this PowerPoint tutorial so that you can get up and running quickly. 
How to Use PowerPoint's Ribbon
To get up to speed with PowerPoint, it helps to understand the layout of the app. Let's walk through the key menu options so that you can learn PowerPoint quickly. If you understand the way that the app is laid out, you're likely to find any feature you need quickly.
This part of the PowerPoint guide will focus on the interface:
1. The Ribbon
The ribbon menu is found across many of Microsoft's apps, such as Word, Excel, and PowerPoint. It lives above the main area of the application.
The ribbon contains a series of tabs that you can switch between. Each of these have a unique set of tools to work with your presentation differently. When you switch tabs on the ribbon, you'll see new buttons and options to change your presentation:
File . Save, share, and export your presentation.
Home . A general-purpose collection of the most common tools that you'll use in PowerPoint.
Insert . An all-in-one tool to add every imagine-able type of content, such as tables, pictures, charts, video, and more.
Design . Controls the look and feel of your presentation with theme and style settings.
Transitions . Add animations when you switch slides.
Animations . Controls the order and style that objects will enter or exit your slide with.
Slide Show . Control settings related to the way your presentation appears when sharing it with an audience.
Now that you understand the layout, you've got a better idea of how you can jump to the feature you need. Let's dive a bit deeper into how you can use several of these key tabs.
2. The Home Tab
Use it for: a general selection of the most popular tools in PowerPoint.
I usually stay on the Home tab when I'm working in PowerPoint. The reason is because it's got practically every tool you need. From adding a new slide to changing text and paragraph settings, the Home tab is the default for most users.
3. The Insert Tab
When you're working on adding content to a slide, the  Insert  tab has every possible tool to add new content to a slide. Choose one of these types of objects to add it to the slide.
PowerPoint has a variety of views that are simply different ways to work with the same presentation. Change the view to get a different perspective on your content.
Use views for a different way to edit and build your PowerPoint presentation.
In the screenshot below, you can see the difference between the default  Normal  view and  Slide Sorter  view. Normal view shows each slide front and center. Slide Sorter view creates thumbnails that you can drag and drop to reorder the presentation. 
5. The Design Tab
An attractive presentation can really grab your audience's attention. We use themes and styles in PowerPoint to add visual appeal to the presentation, and the  Design  tab really controls these settings.
On the Design tab, click one of the themes to restyle the presentation. Or, try out a different Style thumbnail to overhaul the color theme.
The Steps to Create a PowerPoint Presentation for Beginners
We've tackled the interface of PowerPoint, so you should be feeling pretty comfortable with how to get around the app. Now, let's talk about the actions you'll find yourself using repeatedly and how you can do that in PowerPoint.
1. How to Add Slides
Think of  slides  as the individual units in your presentation that you can fill with content. To insert a new slide, go to the  Insert  tab on PowerPoint's ribbon. Then, click on the  New Slide  button to add a new slide to your presentation.
Each of the thumbnails that you'll see on the sidebar represents a slide. Then, you'll add content to each slide.
There's no practical limit to the number of slides that your PowerPoint file can contain. But you should consider how many slides it actually takes to make your point. It's often the 
2. How to Add Content
Content is what defines each slide. PowerPoint accommodates a wide range of content like text, graphs, tables, charts, and more.
The easiest way to add content is to start off by choosing a  Layout,  which you can choose from the  Home  tab.
These layouts have content boxes that are easy to add your own content to. Simply choose a layout, and then start adding your content.
3. How to Choose a Theme and Style
After you build out your presentation's content, it's a great idea to think about adding visual style. For this, you'll jump over to the  Design  tab, and click on one of the thumbnails for a theme.
Using a PowerPoint theme is the preferred alternative to adding backgrounds, color and type styles to each slide. Changing the theme typically will adjust the entire presentation simultaneously. This greatly reduces the time involved with building a presentation.
With just these three steps, you've got the repeatable sequence of actions needed to build a presentation. 
How to Power Up PowerPoint
With every creative app I've ever learned, there are always those insider tricks of the trade that you learn many months later. They make you wish that you had known them all along and think about the many hours you wasted on the learning curve.
PowerPoint is no exception to this rule. It's especially important that you can cut to the chase when you're rushing to prepare for your presentation.
The best way to save time on your presentation is to start with a ga-analytics#sendElementsClickEvent">pre-built PowerPoint theme .  And you can find those on Envato Elements, which is an unlimited download service for creatives.
Discover  ga-analytics#sendElementsClickEvent"> simple PowerPoint template designs  with powerful features on Envato Elements or GraphicRiver. The right  ga-analytics#sendMarketClickEvent"> premium PPT template  will help you make a great presentation quickly. 
Browse through these  simple professional presentation designs  that you can use today:  
Now, most of the files that you'll grab from the Elements PPTX themes will appear to be finished presentations. You might be wondering how to use these pre-built presentations for your own needs.
To use Elements themes, it's really all about cutting it down to the slide designs that you'll use. A premium theme is really about the  ideas  that are included as part of it. Simply use these ideas as starting points that you can add your own content to.
Again, the value of Elements is that you can download as many files as you want while you're a subscriber. And if you stop subscribing, you'll still have the right to use the creative assets you grabbed. It's much faster than building every slide from scratch.
How to Customize a Premium PPT Template Quickly (In 5 Simple Steps!)
When you contemplate how to use PowerPoint, don't imagine building slide decks from scratch. That's where premium PPT templates come in. They take the hard work out of using PowerPoint. 
You can take advantage of designer styles in a simple format. That's the ultimate PowerPoint lesson to take to heart. Let's look at just how easy it is to customize premium PPT templates in this quick PowerPoint training tutorial!
If you want to follow along, download the beautiful ga-analytics#sendElementsClickEvent"> Agio PowerPoint template from Envato Elements.
Let's get started:
1. Choose Slides for Your Presentation
Premium PowerPoint PPT templates often include hundreds of handcrafted slides. For you, it's best to select only a handful to build a slide deck. In PowerPoint, find Slide Sorter on the View tab. 
In Slide Sorter view, click and drag on the slide thumbnails to reorder them. Hold down Shift , click, and press Delete to remove unwanted slides. Jump back and start working by clicking Normal on the View tab.
2. Add Your Own Text
The PowerPoint basics include text and images. Adding custom text is one of the easiest and most common edits to make. 
Pre-built layouts include text boxes already arranged on the slide. To add your own words, highlight the contents of any text box. Then, simply start typing. Repeat throughout the presentation. 
3. Add Images
Wondering how to add PowerPoint presentation images? The easiest way is to turn to premium templates with image placeholders. Identify them by finding the image icons on a given slide. Jump to where images are stored on your computer. 
Then, simply drag and drop them onto the placeholder. Not only will all your photos import automatically, they'll also size and scale to fit perfectly!
4. Change Object Colors
Changing theme colors is a fast way to adjust the visual look of your slides. For example, change object colors to add a bit of contrast. 
To get started, click on a chart section to select it. On the Format tab, click on the Shape Fill dropdown. You'll see a color chooser, from which you can apply any color imaginable. 
5. Customize Fonts
No Microsoft PowerPoint tutorial would be complete without customizing fonts. Sometimes, it's easy to overlook text as a design element, but with a few quick edits you can make your words really stand out. 
Highlight a block of text, then go up to the Font section of the Home tab. You'll see dropdowns to change the font style, size, and color. After that, add quick effects like bold letters, italics, and more!
PowerPoint Tools to Learn (For Presenters)
The content and design will vary greatly from one presentation next. But, no matter what the goal of your presentation is, there are common tools that every presenter can benefit from using. We've developed PowerPoint lessons for those tools.
Let's focus on the most valuable tools for speakers in this PowerPoint tutorial. I always mention these tools as a way to build confidence and comfort for presenters.
1. Speaker Notes
Forget writing out note cards or keeping a printed outline nearby. Speaker notes are a way to add the things you need to say to each slide.
Speaker notes are added to each individual slide, and the best way to add them is from  Normal  view. Click on  Notes  below the presentation area and type your slide-specific notes.
Speaker notes will show up in printed copies of your presentation. So, it's easier to build them into PowerPoint instead of scribbling note cards you may lose.
2. Presenter View
Another feature that's a must-use is Presenter View , which is perfect for two screen setups while presenting. While your audience will see the presentation you've built on the projector or LCD screen, you'll have your own private view with speaker notes, upcoming slides, and more.
Turn on Presenter View from the slideshow tab by clicking  Use Presenter View.
Check out a full guide below on getting the most from Presenter View:
3. Spelling and Grammar Check
There's nothing worse than missing a key typo before you give your presentation. To avoid this problem, it's a great help to run a spelling and grammar check before you give your presentation.
To check for common spelling issues, simply jump to the  Review  tab and click Spelling . PowerPoint will check for the most common issues and allow you to correct them as needed.
5 Tips and Tricks for a Successful PowerPoint Presentation
You've learned how to use PowerPoint presentation templates. We walked through a quick PowerPoint lesson to customize them. But you may be wondering: is that enough to deliver a winning PowerPoint presentation? 
Part of PowerPoint training comes from adopting the tips and tricks used by the best presenters. Follow these, and you'll have a happy (and engaged) audience every time!
1. Have a Clear Objective
Let's face it: we've all endured lengthy, boring PowerPoint presentations that seem to drift without a clear purpose. When you build your own PowerPoint, start with a goal in mind. Typically, that goal will be to inform or persuade an audience. It pays to outline that goal in advance and work towards your objective with a series of clear and concise slides.
It may sound daunting, but you can learn the technique in moments with our full PowerPoint training to help build persuasive slide decks:
2. Illustrate Concepts With Infographics
A key PowerPoint lesson for beginners is this: never get bogged down trying to talk through concepts. Visual aids are essential, and audiences demand them today. Infographics are a successful presenter's best friend. Infographics combine information and graphics to create stunning visuals. 
Learn to build them yourself. Or sample from the very best pre-built PPT templates today in our infographic-centric set of PowerPoint instructions:
3. Use Subtle Animations and Transitions
Animations and transitions: fundamental elements of any deck, they should be used sparingly. When carefully applied, they create beautiful segues between slides. They can also help introduce new ideas in exact sequence. But use too many, and they become obnoxious distractions guaranteed to annoy an audience. 
Moderation is the name of the game here. Read our full Microsoft PowerPoint tutorial on animations to use them with confidence:
4. Be Interactive to Engage the Audience
No matter how compelling your narrative, you can't simply talk to an audience and expect full participation. Instead, you need to engage your audience. A quick and fun way is with a quiz slide. They get the audience involved and help your slide deck stay focused. 
Even better: pre-built templates make it a breeze. They're PowerPoint instructions inside a PPTX file. Get started building interactive quizzes in PPT today with our guide on how to create PowerPoint quizzes:
5. Close Strong for an Enduring Message
The very best PowerPoint presentations make a great first impression. But equally (and perhaps even more) important is the winning last impression. It's critical to conclude with a strong close. Leave on a memorable anecdote, recap your key points, or make a big "ask." All these techniques and more help to ensure a strong close.
Don't go it alone. We've created expert PowerPoint training on building a strong close. Check it out here:
More Beginner PowerPoint Tutorials (Free to Learn Online)
This PowerPoint tutorial helped you get off the ground with using Microsoft PowerPoint. You learned the steps for creating slides and the shortcut to a better presentation with pre-built themes.
At Tuts+, we've been building out a series of PowerPoint tutorials that can help you build your presentation skills. Check out all these PowerPoint tutorials for free. One ideal place to start is the PowerPoint Ultimate Tutorial Guide that we've developed. If you're feeling nervous about giving a presentation for your job or freelance practice, try out more of these tutorials like the ones below.
Microsoft PowerPoint Premium Online Courses
One of the best ways to learn is by watching a complete PowerPoint presentation built from start to finish. PowerPoint training creates polished presenters. Seeing a presentation come together will teach you the tricks you need to confidently build your own presentations.
At Tuts+, we've built a library of courses that do just that. Think of them as the "PowerPoint for dummies" selections for beginners. These are complete courses that include all the PowerPoint knowledge you need to craft a slide deck that tells your story.
These PowerPoint tutorials are included for free if you already subscribe to Envato Elements. The same subscription gives you PowerPoint instructions to become a presenter. You'll learn to use templates that help you jump ahead in building your presentation and build them in less time than you ever thought.
Need Help? Grab Our Making Great Presentations eBook (Free)
You can find more information in our new  eBook on making great presentations . Download this PDF eBook now for FREE with your subscription to the Tuts+ Business Newsletter.
It'll help you master the presentation process, from: initial creative ideas, through to writing, design, and delivering with impact.
Get Started Using PowerPoint Today
Presentations can be daunting to take on, but a bit of knowledge about Microsoft PowerPoint can ease the process. We've got tutorials that show you how to create a PowerPoint presentation, for beginners. Jump to the following links to speed up your learning process and spend less time in PowerPoint:
ga-analytics#sendElementsClickEvent">Envato Elements is the best place to grab premium PowerPoint templates  that save you hours of design work and leave you with a finished presentation that you'll feel confident in.
Courses included with Envato Elements are complete walkthroughs of how to build a presentation. They're perfect PowerPoint tutorials for beginners.
The PowerPoint Ultimate Tutorial Guide  is a complete learning resource with the top tutorials to take you from beginner to expert. 
Editorial Note : This post was originally published in 2017. It's been comprehensively revised to make it current, accurate, and up to date by our staff—with special assistance from Andrew Childress .
autocad basic - PowerPoint PPT Presentation
autocad basic
Autocad basic for this ppt – powerpoint ppt presentation.
S.SOUNDARYAHAREE
Introduction
Latest Version
AutoCAD Screen
Way to provide command.
How it Works
Co-ordinate system.
Some 2D command.
Benefits of AutoCAD.
Careers involving autoCAD
The Word AutoCAD is made up of two words Auto(logo of company)and CAD (computer aided design/drafting).
AutoCAD is 2D and 3D modeling software.
It is developed by Autodesk company.
Autodesk is an U.S.A based company.
It is widely used in industry for 2D drawing and 3D modeling.
In another way we can say that AutoCAD is a designing course , which is performed by the help of computer.
AutoCAD software was firstly launched by Autodesk company in Dec. 1982.
John Walker Developer of AutoCAD
It comes in India in 1988.
The first version of AutoCAD was R1 after that R2,R3,R4 and so on.
In 2000,Autodesk launched a version of AutoCAD 2000 after that 2001,2002 so on.
This time, we have the latest version of AutoCAD is 2015,which is launched on 27th march 2014.
There is a co-ordinate system used in AutoCAD.
Every drawing shows its co-ordinate.
In above next slide the line shows its co-ordinate that is ( 9,6 ) and (-10,-4).
There is so many commands like copy, move ,rotate ,mirror in 2D, path array , rectangular array, polar array more.
Different types of drawing can be made in the same time by using a command that is LAYER.
Using line , arc , circle , rectangle , ellipse polygon , so many drawing of different type can be made.
Every thing that we draw in AutoCAD is exact.
All object drawn on screen is based on simple X-Y co-ordinate system.
In AutoCAD it is known as world co-ordinate system (WCS).
We are drawing a line, so we have two points A(-10,-4) and B(9,6). As shown in figure.
Chamfer Fillet
Copy Mirror
Scale Array
Extend Join
Hatching is used to add shaded patterns to objects and shapes within an Autocad drawing. Hatch patterns can be used to indicate a material to be used, such as a concrete hatch.
You will pick
Quickly create designs.
Improved quality over hand drafting.
Easily modify.
More Accuracy.
Easy to transfer.
Long time save.
Mechanical Design Engineer
Automotive Design Engineer
CAD Teacher
Structure Design Engineer
CAD Operator
CAD Manager
PowerShow.com is a leading presentation sharing website. It has millions of presentations already uploaded and available with 1,000s more being uploaded by its users every day. Whatever your area of interest, here you'll be able to find and view presentations you'll love and possibly download. And, best of all, it is completely free and easy to use.
You might even have a presentation you'd like to share with others. If so, just upload it to PowerShow.com. We'll convert it to an HTML5 slideshow that includes all the media types you've already added: audio, video, music, pictures, animations and transition effects. Then you can share it with your target audience as well as PowerShow.com's millions of monthly visitors. And, again, it's all free.
About the Developers
PowerShow.com is brought to you by CrystalGraphics , the award-winning developer and market-leading publisher of rich-media enhancement products for presentations. Our product offerings include millions of PowerPoint templates, diagrams, animated 3D characters and more.
Explore premium templates
Become a presentation pro with the help of Microsoft PowerPoint templates
Microsoft PowerPoint templates offer the widest range of design choices, which makes them perfect for modern and sophisticated presentations and pitches. PowerPoint themes allow for a variety of presentation topics, giving you the freedom to choose the best presentation template design for your project. Microsoft offers a wide variety of PowerPoint templates for free and premium PowerPoint templates for subscribers of Microsoft 365. Each of our templates for PowerPoint allow for stylized charts and graphs while still maintaining a professional tone. Host a healthcare seminar, teach a high school course about dinosaurs, design a fashion magazine, or bring back the 1980s with a retro pitch deck. Anything you choose will be supported by PowerPoint, even if we haven't thought of it yet. While Microsoft's PowerPoint presentation templates are all professionally designed and require only the lightest touch when filling in your relevant data, they can also be heavily modified. If you prefer a more hands-on and involved approach with your presentations, each PowerPoint template is easily customizable and allows you to change anything and everything to suit your exact needs.
Microsoft PowerPoint
Get it now with a Microsoft 365 subscription.
Get the PowerPoint mobile app ¹
Interact naturally using voice, touch, and ink
Easily ink onto a slide, then convert handwritten notes into text and make hand-drawn shapes perfect in seconds.
Nail your next presentation
With Presenter Coach, practice your speech and get recommendations on pacing, word choice, and more through the power of AI.
Be on the same page
Always know where you are in the editing process. With the while you were away feature, track recent changes made by others in your decks.
Task management with PowerPoint and Microsoft 365
See how task management in Microsoft 365 works as an integrated experience that lets you assign, manage, and complete tasks across your favorite apps including PowerPoint.
Ready to create great presentations with Microsoft 365?
See more from microsoft powerpoint.
Microsoft PowerPoint for Windows
The go-to presentation tool for business and leisure.
Professionals have long trusted its power and functionality to put their best foot forward. Students find it helpful as they create presentations for school projects and homework. PowerPoint 2016 is Microsoft's latest version with new features and streamlined automation. This tool is ideal for anyone creating an impressive presentation, either with all the bells and whistles or with a simple and minimalist style. Suggested design templates help those who are not as tech savvy, while also being incredibly customizable for those who know their way around the interface. It currently occupies 95% of the world's presentation software, solidifying its place as the industry standard. Using this program is sure to take your presentation to the next level.
Make your slides shine
Microsoft PowerPoint stays ahead of the curve as it releases innovative new features, still remaining the tried and true presentation software of the industry.
Some of PowerPoint's newest and most innovative updates are only available to O365 users. Those with Office 365 also have access to Microsoft's mobile apps, including PowerPoint for mobile, automatically syncing projects across all of your devices. PowerPoint via Microsoft Office Online allows users to collaborate within a presentation simultaneously, streamlining workflow and fostering teamwork. The latest version also offers templates in over 40 categories including business cards, calendars, flyers, photo albums, business plans, and of course business presentations.
Microsoft stays relevant with their Office Blog where users can connect with experts, see what's new, and get the most out of their software. Microsoft provides support for large-scale presentations and offers tips on various subjects to improve user success and satisfaction. Within the software program itself, easily navigate PowerPoint's toolbars to achieve the desired presentation. Business collaboration is upgraded with the ability to use @mentions within slide comments to notify others when you need their input.
Perhaps the most interesting new feature for business users is PowerPoint's ink conversion capability. Users can draw directly within the "Draw" tab and PowerPoint will convert it to standard shapes. Sketch out an organizational chart within a slide and the ink converter will turn it into actual shapes and text. This takes on-the-fly edits and brainstorming to a whole new level. This feature, like many, is only available to Office 365 subscribers using Windows 10 version 1511 or later.PowerPoint is not just for your average work project though. With new features like 3-D animation and updated slide transitions, students and hobbyists can get creative as they showcase their information. PowerPoint consistently runs smoothly and quickly.
Microsoft PowerPoint 2016's "Help" feature is enhanced from previous versions, which novices will find handy. All users are subject to Microsoft's standard privacy policy. They do not use email, chat, files, or other personal content to target ads to users, a welcomed differentiator from other large companies such as Google and Instagram. Microsoft collects search data, location services (when activated), and stored sign-in and payment data (when authorized). Users can log into their Privacy dashboard to adjust settings, clear browsing, search, location, voice, media, and product activity. Microsoft seems committed to keeping privacy controls in the hands of its userbase.
Where can you run this program?
Microsoft Office 365 2019 (subscription) and PowerPoint 2016 (software installation only) are compatible with Windows 10 or macOS. The 32bit version is automatically installed but users can manually choose the 64bit download.
Is there a better alternative?
Google Slides and Apple Keynote are the two biggest competitors to Microsoft PowerPoint. The first and biggest difference between these three is that Microsoft PowerPoint is a paid software and Google Slides and Apple Keynote are both free.
There are also some additional capabilities that come included with Keynote but are an upgrade for PowerPoint users. Google Slides allows you to present via Chromecast, Airplay, or Hangouts, never having to connect any wires. Other than that, the abilities of each program are mostly similar, with some additions and deletions here and there.The big tradeoff lies in familiarity vs free.
Is it worth the learning curve to try Keynote or Slides? Most large companies and those with formal presentation needs will feel safer staying close to home with what they know, which is PowerPoint. With new features added with nearly every monthly release update, Microsoft simply adds to a program you already know, facilitating easier adoption.
Microsoft PowerPoint has been and will continue to be the presentation software front runner for the foreseeable future. For important presentations for business and school, reliability cannot be left up to chance. Making the leap from PowerPoint to another program may introduce risk when the stakes are already high. People like what is working for them and Microsoft is a brand people can trust.
Should you download it?
Yes. Most business professionals and students are working with Microsoft Office products like PowerPoint already. You may be wondering if the O365 subscription is worth it or if you can get by with similar, free programs. That depends on your needs. Download an O365 subscription with Microsoft PowerPoint if you need a familiar, fast, and ever-evolving presentation software. Go for Google Slides if you are willing to work through a learning curve, adapt to a new interface, and if there will not be a negative reception of non-Microsoft products at your school or office. You cannot go wrong with Microsoft.
Integrates with other Microsoft products
Simultaneous collaboration available to work on the same project at the same time as your teammates
PowerPoint app allows on-the-go presentation creation and editing
Free options available (Google Slides or Apple Keynote)
Some functionality upgrades cost additional money
Windows Media Player
A free media player for Windows users
Free MP3 Cutter Joiner
Free MP3 Cutter Joiner: audio clipping and volume adjustment
Debut Video Capture Software
Capture images and videos for free with Debut Video Capture Software
If you need a tool to make calls online, Skype's certainly a genuine option with lots to offer a certain kind of user
File transfer service
Less time explaining, more time doing
If you miss the Windows widgets of old, Rainmeter could be what you're looking for.
Browse the internet anonymously with this VPN service
PC gaming service from game developers
Safe Exam Browser
Assessments without cheating